Youngstown Christian boys face Cleveland VASJ tonight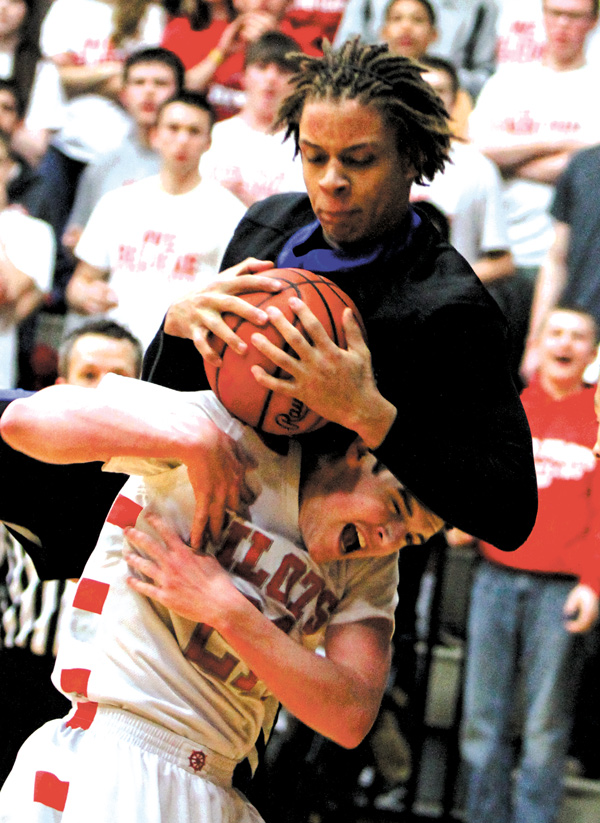 ---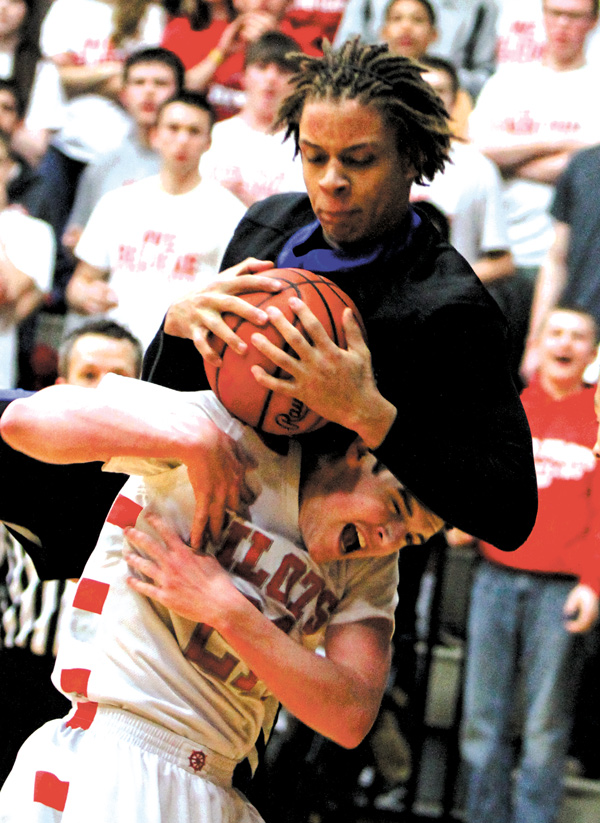 Photo
Youngstown Christian's KaeVon Green (24) pulls down a rebound along with Hannibal River defender Brett Price (21) during the Division IV regional semifinal Tuesday at Canton Memorial Fieldhouse. The Eagles downed the Pilots, 60-49, to advance to the final today against Villa Angela-Saint Joseph. Tip-off is set for 7:30 p.m.
By Steve Ruman
YOUNGSTOWN
There is a scene in the movie "Hoosiers" in which the Hickory High basketball team arrives at spacious Hinkle Field House in preparation for its state championship game.
The small-town team is awestruck by the size of the arena. To settle its nerves, coach Norman Dale asks for help in measuring the distance from the basket to the free-throw line. He then uses the tape measure to verify the basket is 10 feet off the floor.
"I think you'll find it's the exact same measurements as our gym back in Hickory," Dale says.
Youngstown Christian coach Dolph Carroll didn't exactly whip out a measuring stick Tuesday when his Eagles played Hannibal River in a Division IV regional semifinal game at Canton Memorial Fieldhouse. However, there was a moment during the game when he certainly was able to relate to the butterflies felt by Hickory.
"It's a big stage, these guys have never been here," Carroll said of playing in Canton. "My goodness, we weren't supposed to be here — we were the eighth seed (at the Struthers District).
"For us, this is a huge venue, so we were brain dead for a little while."
In fact, Canton Memorial Fieldhouse seats more than 5,000 spectators. By comparison, Youngstown Christian plays its home games in a gym which seats approximately 325 fans.
However, much like Hickory, YCS was able to shake off its early jitters in fashion. Trailing River by 10 points midway through the third period, the Eagles finished the contest with a 35-14 run, cruising to a 60-49 victory.
YCS now faces Cleveland Villa-Angela St. Joseph (22-4) at 7:30 tonight in a regional championship game. The game will also be played at the Canton Memorial Fieldhouse.
Against River, YCS was led in scoring by junior Tymere Dubose's 21 points.
"I'm not going to lie, things were pretty intimidating early on," Dubose said. "We've never played in a gym that size before. We struggled. I think half of it was mental, and half was us just trying to get used to the surrounding. Once the coach talked to us during a timeout, we kind of settled down and played our game."
So, what were Carroll's words of wisdom which sent the Eagles soaring?
"Play our game, play defense," said senior Daylen Williams. "Coach said that regardless of where we're at, we should be able to play consistent defense. If we do that, we'll score on offense."
Williams showcased his complete game. The Eagles' leading scorer this year tallied just eight points, but he pulled down six rebounds, dished out six assists and recorded seven steals.
"I think we were more hyped up than we were intimidated," Williams said. "We like the big stage. We just had to settle down and play like it was just another game."
Darien Townsend spearheaded the Eagles' comeback by scoring seven straight points. He said that Canton's large venue was "quite different than anything we're used to," and admitted nerves played a factor in the early-game struggles.
"But we've faced adversity all year, so we just looked at it as something else to overcome," Townsend said.
Tonight, the Eagles will face their biggest challenge to date. They go up against a St. Joe's team which has outscored four tournament opponents 345-174.
The Vikings starting lineup includes three players who are six-foot-seven or taller, led by Division I recruits Demonte Flannigan and Carlton Bragg.
The Vikings' backcourt is led by Northeast Lakes District Player of the Year, Duane Gibson.
"They're good, they're very tall and very athletic," Williams said. "We've never faced a team with this much talent. We'll have to have it going from start to finish."
Still, the Eagles are now confident they can play with the best the state has to offer.
"We know what we're up against, and now that we played there once before we won't be intimidated by the place," Dubose said. "We just have to play our game. We have to defend and rebound."