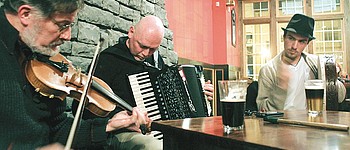 Irish music brings smiles to many in the Valley
Published: 3/15/13 @ 12:00
YOUNGSTOWN
Youngstown is 3,423 miles from Dublin, Ireland, but a group of local musicians is dedicated to keeping the traditional sounds of Ireland alive in the Mahoning Valley.
In Irish pubs both here and around the world, musicians with a love for Irish music often gather to share tunes, company and a pint.
On a recent winter night, the sounds of jigs, reels and hornpipes drifted from a popular downtown Youngstown pub as a group of three local musicians played through their repertoire of traditional or "trad" Irish songs.
One of the musicians, Mike Shaffer, 58, started playing Irish music on the accordion when he was 4. As he puts it, "That's a long time."
Shaffer, of Poland, learned both the instrument and his love for Irish music from his father, Gordon Shaffer, who taught hundreds of people Irish music. Between tunes, Shaffer described the music as intoxicating, fun and a part of his whole life. "I'm keeping alive a heritage that is very rich and important to me," he said.
This type of gathering is called a sessiun, and it is basically an Irish jam session primarily for the enjoyment of the musicians. The players, however, don't seem to mind a bit of applause or offers of a pint from the audience.
Frank Krygowski of Poland, who plays Irish tunes on the fiddle and penny whistle, a six-holed woodwind instrument, describes the gathering as an informal Irish music session with people sitting in a pub and playing tunes for the fun of it.
Krygowski says he loves the tunes, but it's the social component of a sessiun that enthralls him. "It's a way to relate to people that most Americans don't get. Sharing tunes is just a beautiful social event" Krygowski said.
The tunes played at sessiuns are hundreds of years old and have names such as "Drowsy Maggie," "Fox Hunter's Jig" and "Maid Behind The Bar." These songs often are used for traditional Irish dancing.
Shaffer is well-known as a musician performing for Irish dance competitions and has traveled to Ireland many times for such events.
An instrument often seen and heard at most sessiuns is the bodhran, an Irish frame drum with a calfskin head. John Vitullo, a percussion performance student at Youngstown State University's Dana School of Music, was on hand tapping out rhythms on his bodhran.
Despite his name, Vitullo says he's part Irish and got his introduction to Irish music from Irish rock bands such as Dropkick Murphys and Flogging Molly. He soon gravitated, however, toward more-traditional acoustic fare.
"I just fell in love with it. It's fun to listen to, fun to play and everyone seems to like it," Vitullo said.
Keeping alive the traditions of Irish music is important to Shaffer, whose daughter teaches Irish dance in the Boston area. He also teaches Irish music and is a member of the popular Irish act Shaffer Brothers Band.
"Relaxed" and "informal" are words Shaffer uses to describe most sessiuns, adding he has a student who plans to attend the next gathering and play the tunes he knows. Even though the student is a beginner, Shaffer said, "We embrace that because that is the next generation of musicians."
Don't Miss a Story
Sign up for our newsletter to receive daily news directly in your inbox.