Lupo, Guesman plead not guilty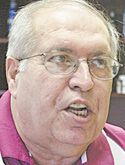 Photo
YOUNGSTOWN — Ben W. Lupo, owner of D&L Energy and Hardrock Excavating, pleaded not guilty in U.S. District Court today during his arraignment on an indictment charging him with violating the federal Clean Water Act.
Michael P. Guesman, a Lupo employee, and Hardrock Excavating also pleaded not guilty to the same charge.
The indictments came after state regulators learned Lupo had instructed Guesman to dump a mixture of oil, brine water and drilling mud into a storm drain at Hardrock's headquarters at 2761 Salt Springs Road on Jan. 31.
Guesman was declared indigent by the court and granted public counsel. He was released on $20,000 unsecured bond.
This is a breaking news story. watch Vindy.com for updates.