Glenwood math team heads to state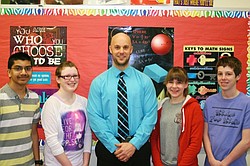 Photo
Boardman Glenwod Middle School's math team took first place in the Mathcounts competition on Feb. 14 at YSU. The team includes (pictured left to right) Pranav Padmanabhan, Emily Wagner, Mr. Wade, Mackenzie Kondas and Matt Maroni.
The Boardman Glenwood Middle School math team competed at the regional Mathcounts competition on Feb. 14 at Youngstown State University. The competition hosted the area's top mathematicians competed in a variety of areas.
Boardman Glenwood's team finished first overall and have advanced to the state competition in Columbus. Team members include Mackenzie Kondas, Matt Maroni, Pranav Padmanabhan and Emily Wagner.
In addition, Pranav Padmanabhan tied for third overall out of more than 200 students. Other participants were Morgan Phillips, Manan Shah, Katleyn Snyder and Anna Warhol.