Former Phantom Saad now on Blackhawks' top line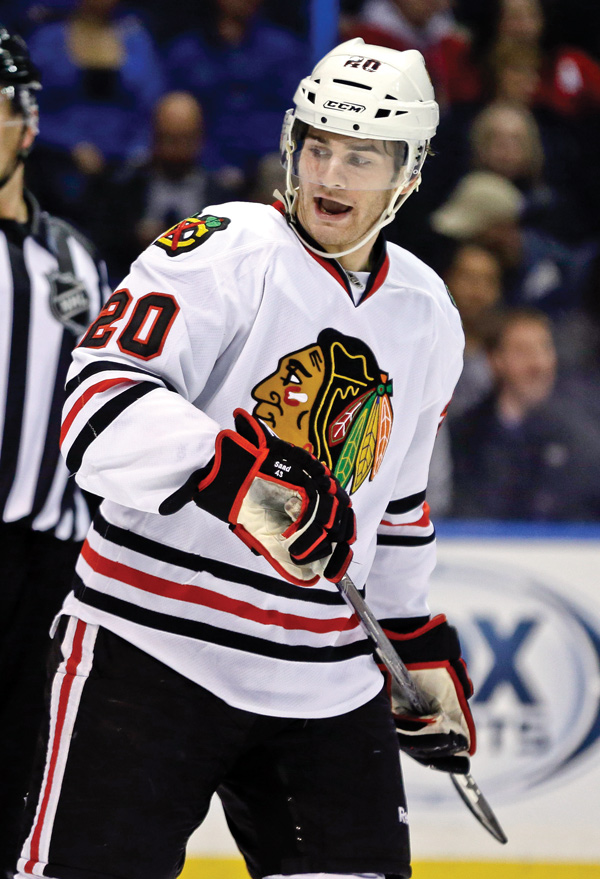 ---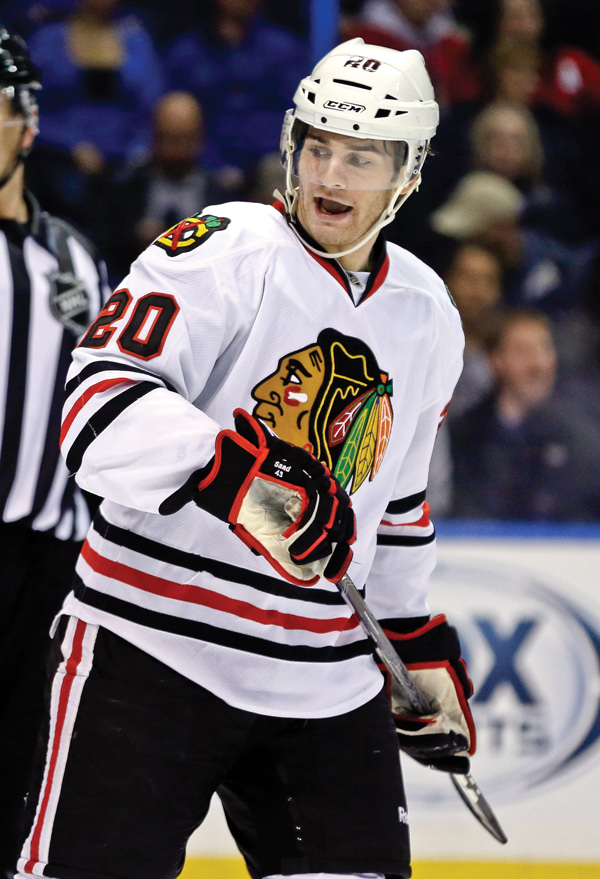 Photo
Former Youngstown Phantom Brandon Saad is living an NHL dream as a member of the Chicago Blackhawks.
By Tom Williams
COLUMBUS
Brandon Saad's hockey adventures have taken him from The Ice Zone in Boardman to the best team in the National Hockey League.
A second-round draft pick in 2011, the Chicago Blackhawks rookie wasn't sure he'd make the team when the NHL lockout ended in January.
But not only did he make coach Joel Quenneville's roster as a fourth-line winger, he's excelled to be promoted to the team's top line that features captain Jonathan Toews and Marian Hossa.
Not bad for the best player to ever wear a Phantoms uniform (Mahoning Valley or Youngstown).
"He's had a real nice start to the season," said Quenneville, who coached the Blackhawks to a Stanley Cup championship three seasons ago. "We like 'Saader' in a lot of ways — we like his consistency game in and game out.
"He's in a real nice position," the coach said of Saad's presence on the top line. "That line has been heavy on the puck. He protects it well, he's got some real nice skills as far as coming up with loose pucks, sustaining pucks. Around the net, he makes plays."
Saad, 20, from nearby Gibsonia, Pa., admits he's living a dream.
"This was always the goal," said Saad who has scored four goals and seven assists in 25 games. "It was definitely my dream to play in the NHL.
"This year, it's come true, [especially] with the success we've been having and the line I've been playing on," said Saad, who was a Mahoning Valley Phantom in 2008-09, the final season for that North American Hockey League franchise. "You can't ask for a better line."
Or better team success. Chicago (21-2-3) set an NHL record by earning points in its first 24 games. The Blackhawks' first loss in regulation came last week.
Saad's journey from high draft pick to making the team was not without challenges.
"It's been a whirlwind, but at the same time the more I play, the more comfortable I get," the 6-foot-2, 202-pound winger said.
He's earned a new nickname — Man-Child.
"MC for short," Saad's roommate Andrew Shaw said. "He's so mature, he's physically built like a man. And he's slow at everything — he takes his time while the rest of us kind of get up and go."
Patrick Sharp and Patrick Kane came up with Man-Child, which refers to his rapid rise.
After his season in Youngstown, Saad played one season with the U.S. National team, which included games against the USHL's Youngstown Phantoms. In 2010, Saad joined the Ontario Hockey League's Saginaw Spirit.
Three months after being drafted, Saad was in the Blackhawks' training camp and played the first two games of the 2011-12 NHL season.
"Last year, I got a taste of it," said Saad, who was then released to play another season with Saginaw. Last spring, he returned to the Blackhawks for two playoff games.
Saad admitted the demotion to juniors was frustrating, but said it paid off.
"I never expected to make the [Blackhawks] out of camp," Saad said. "The taste that I got just motivated me more. In the OHL, I became more confident."
Last fall when the NHL locked out its players, Saad played for the Rockford Icehogs, the Blackhawks' American Hockey League team.
"I think [my time in Rockford] helped a lot," Saad said. "It's my first [full] year pro, regardless of whether it's AHL or NHL."
In 31 AHL games, Saad scored eight goals and 12 assists, not exactly the blueprint for playing alongside NHL All-Stars named Hossa and Toews.
"It definitely helped with timing," Saad said of the speed the professional level.
In January, on the night before the Blackhawks flew to Los Angeles to open the season against the champion Kings, Saad found out he was again a Blackhawk. Saad sat out the first game but found himself in the lineup when forward Dan Carcillo was injured against the Kings.
"The opportunity came to play, which made this even more exciting," Saad said.
Eventually, Saad moved onto Toews' line.
"These two are among the top in the league," Saad said of Toews and Hossa. "It's pretty awesome to be able to play with guys of that caliber. To learn from them on and off the ice — I'm being a sponge out there, taking in all that I can."
Quenneville said Saad is holding up under pressure.
"That line has been very effective as far as keeping momentum, keeping the puck in the offensive zone quite a bit," he said.
Saad admits it's ironic that a guy who grew up cheering for the Pittsburgh Penguins is playing alongside Hossa. In 2008, the Pens acquired Hossa at the trading deadline and advanced to the Stanley Cup Final, losing to the Detroit Red Wings in six games.
One season later, when Hossa signed with the Red Wings, the Pens beat the Wings for the Cup in an amazing seven-game series.
"He knows I'm from Pittsburgh," said Saad, laughing at the memory of how Pittsburgh fans reacted when Hossa went to Detroit. "I was a fan of his when he was in Pittsburgh, so it's pretty crazy to be on his line.
"Now it's a business and I love Chicago."
Quenneville said Saad's development includes doing better in his own zone.
"Defensively, he's aware, he's been progressing in that area as well," Quenneville said. "I think he uses his size and his strength and his instincts offensively to complement the guys he's playing with, which makes for a real nice line for us."
It's a big year for the Saad family. His parents, George and Sandra, spent 10 days in Chicago last month and saw several games during the streak.
Brandon's brother George, who also played for the 2008-09 Phantoms, is a senior at Penn State and played on its first-year Division I hockey team. He's majoring in civil engineering.
"He also played three years on the club team," his younger brother said with pride.