Mooney's run ends against Warrensville Heights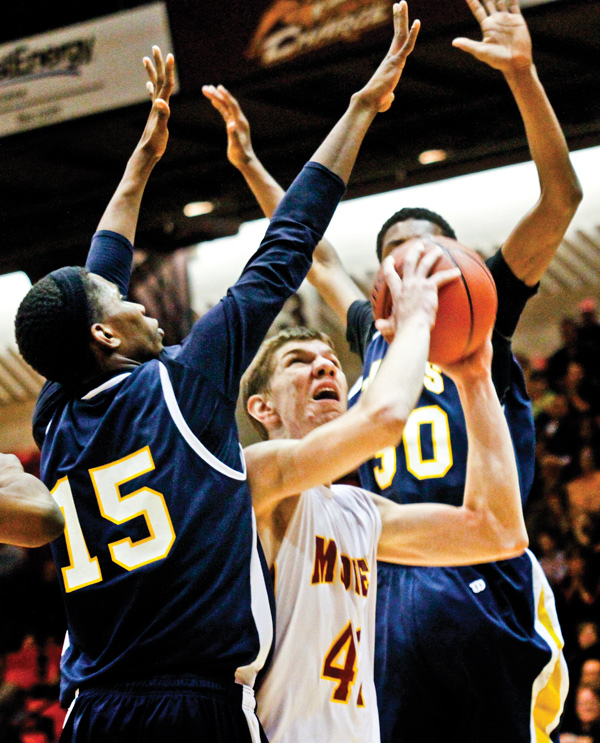 ---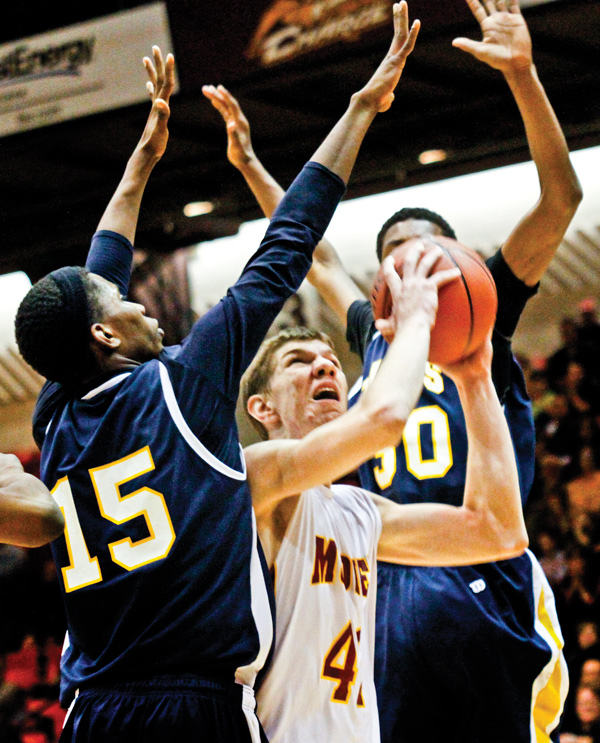 Photo
Cardinal Mooney's Doug Caputo (42) tries to shoot as he is hemmed in by Warrensville Heights defenders Jermaine Brown (15) and Trevon McGhee (30) during the Division II regional semifinal Thursday at Canton Memorial Fieldhouse. The Cardinals' season came to an end at the hands of the Tigers, who won 69-61.
Warrensville Hts. uses foul shots to beat Mooney
By Joe Scalzo
Canton
Cardinal Mooney High boys basketball coach Brian Danilov unwrapped a cough drop (this makes sense if you've ever seen him coach), stepped out of the Civic Center locker room and asked the reporters the first question.
"What was their foul shooting?" he said.
Twenty-four of 33, he was told.
"How much?" he said following Thursday's 69-61 loss to Warrensville Heights in the Division II regional semifinal. "Wow. Wow. That's where they won it."
Yes, but just barely.
Trailing 60-50 with 2:41 left in the fourth quarter, the Cardinals went on a 9-2 run to get within three points with 54.4 seconds left.
But the Tigers made 5 of 6 free throws down the stretch and held Mooney to 0 for 3 shooting (all on missed layups) with two turnovers to close it out.
"That's been happening all season," said WH coach Brian Swift, whose team will play Akron St. Vincent-St. Mary in Saturday's regional final just a year after going 3-18. "The [difference] from the beginning of the season to now is we figured out how to close games, regardless of the score."
Freshman Andrew Armstrong scored 15 of his 17 points in the second half for Mooney (12-12), which was playing its first regional semifinal since 1998.
Armstrong also had seven rebounds, while senior Doug Caputo added 17 points and five rebounds.
"I kind of had a rough first half, so I knew I had to come out strong in the second half for us to get back in the game," Armstrong said. "We fought to the end and I'm proud of my team.
"We just never give up. We know we can handle anyone if we play as a team and don't give up and that's what we did."
Montell Goodwin scored 17 points with four assists and three steals for WH (17-10), which used its press to force 23 turnovers. Charles Franklin added 14 points and seven rebounds.
"What really hurt us was they were making fouls shots," Danilov said.
Plus, they're really long and athletic.
"Oh yeah, they are that," Danilov said. "They're a good team."
And Mooney ended up being a better team than anyone expected. The Cardinals went 9-11 in the regular season, losing three of the last five games (including a 40-point drubbing by Ursuline) but regrouped to knock off the district's top two seeds, Poland and Salem, in consecutive games.
"We expected to be here," insisted Danilov, who led Campbell to six straight district finals, then took a year off before taking the Mooney job. "I know the work they've done. I don't care what anyone else thinks — those guys worked their [butts] off.
"They're a very unselfish group and they laid the groundwork for the coming group to shoot for."
Mooney loses six seniors to graduation, but just one starter: 6-foot-8 Doug Caputo.
"That's a big starter to lose," Danilov said.
Still, Armstrong thinks this year's experience will pay off next season.
"This is motivation for next year," he said. "All these seniors, they were great brothers to me. They really taught me a lot and I love them."