Area high school students compete in business challenge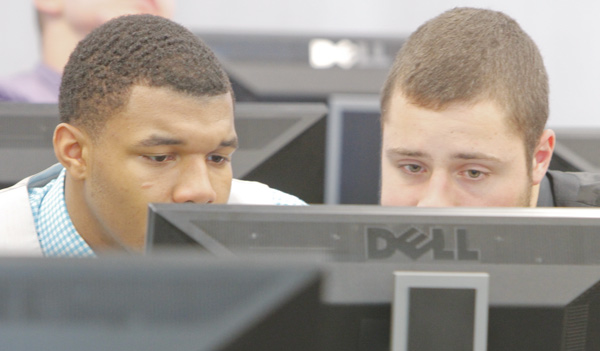 ---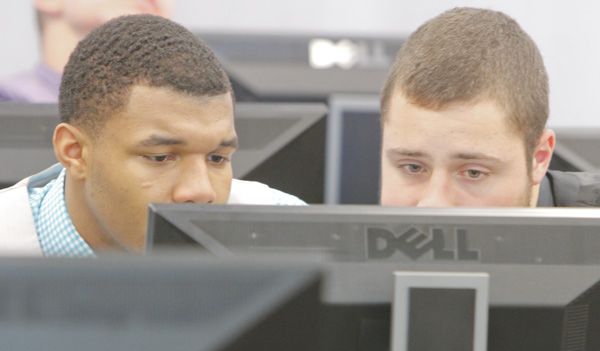 Photo
Braylen Wigfall, left, and David Horvath of Campbell work on their business model Thursday during the Junior Achievement of Mahoning Valley Titan Challenge at Youngstown State University. Twenty teams from Mahoning Valley high schools competed in the fourth annual competition.
By Denise Dick
Youngstown
Students from nine Mahoning Valley high schools tested their entrepreneurial skills in the Junior Achievement Titan Business Challenge.
Twenty teams from Austintown Fitch, Boardman, Bloomfield, Campbell, Champion, Hubbard, Poland Seminary, Southington Chalker and Youngstown Christian high schools were matched with volunteer mentors from the business world.
The online business simulation was Thursday at the Williamson College of Business Administration at Youngstown State University.
First-, second- and third-place winners received scholarships of $500, $200 and $100, respectively.
Melissa D'Apolito, JA of Mahoning Valley special events and marketing coordinator, said the contest, in its fourth year, saw a record number of teams participate this year. The first year, only five teams signed up.
Seniors Cami Chickonoski, 17, James Naples, 17, and Natalie Hoelzel, 18, comprised YCHS Black Inc., one of three teams from Youngstown Christian.
"We have a product and we have to sell it," Chickonoski said.
The student teams have to consider research and development, marketing, unit price and production amount in mapping out their strategy to make money for their company.
The Youngstown Christian teams consist of students from the school's entrepreneurial class.
Naples said he enrolled in the class because he wants to minor in business administration in college next year. He plans to major in early childhood development.
Hoelzel signed up for the elective course just for the experience.
Seniors David Grimwood, Zack Fortunato and Justin Kroynovich, all 18, make up Hubbard White Inc., one of Hubbard High's two competing teams.
The idea is to make a profit for their business, Grimwood explained.
Kroynovich said the game was challenging at the beginning until the team figured it out. The key to making more money for their business is "expand," he said. "Grow your business when you can."
Students, with guidance from their mentors, analyze situations and use information under time pressure. This year's competition kicked off with a marshmallow challenge. Teams were given a marshmallow, dry spaghetti and a roll of tape and asked to assemble a sculpture, with the marshmallow on top, in 15 minutes.
"It's a team-building exercise," D'Apolito said.
The highest sculpture was 16 inches tall.
"The people who do the best are kindergartners because they don't overthink," she said.