YCS kids win Disney Dance party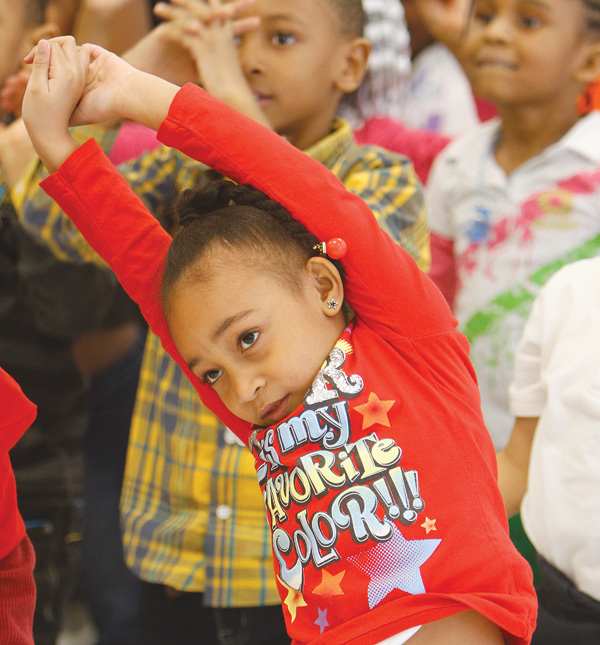 ---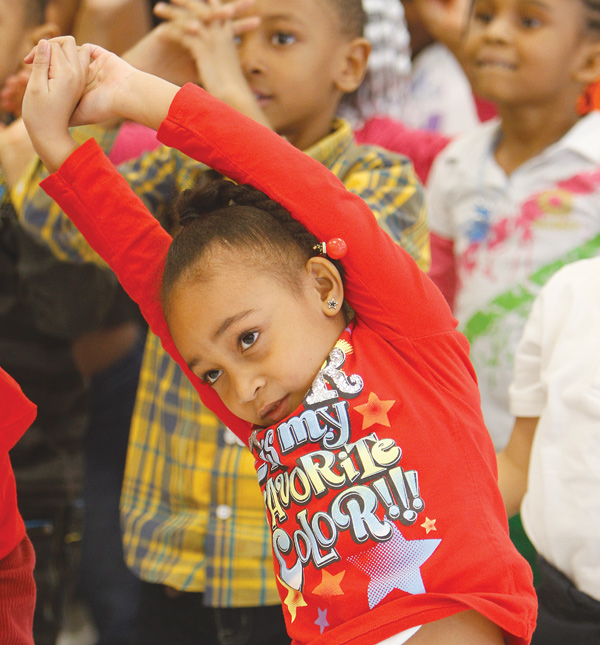 Photo
Isabella Torres, a kindergartner, stretches before participating in the strenuous exercise of the Radio Disney Dance Party at her school.
YOUNGSTOWN
The children and teachers at Youngstown Community School rocked the cafeteria at a Radio Disney Dance Party, a reward for winning Anthem Blue Cross and Blue Shield of Ohio's Get Active, Get Fit School Challenge.
Youngstown Community and Poland Union Elementary schools were among 20 schools across Ohio whose fitness programs won Radio Disney Dance Parties in February and March. Youngstown Community's dance party was Wednesday afternoon, and Poland Union's party was Feb. 21.
This is the fourth year Anthem Blue Cross and Blue Shield in Ohio and Radio Disney have encouraged healthy lifestyles among school-age children with the Get Active, Get Fit event.
This year the challenge was completed by more than 70,000 children at 188 Ohio elementary schools across the state, said Nancy Kuzenko of Howland, representing Anthem's Youngstown office.
"This [reward] is quite an accomplishment considering the number of schools participating, and the kids are particularly excited because they were permitted to 'dress down' and not wear their uniforms," Kuzenko said.
According to the U.S. Centers for Disease Control and Prevention, about 17 percent, or 12.5 million, of children and adolescents age 2 to 19 are obese. Since 1980, the prevalence of obesity among children and adolescents has nearly tripled.
To help mitigate this
trend, which Anthem said significantly increases children's probability of developing serious health problems, the organization, in partnership with Radio Disney, designed the Get Active, Get Fit School Challenge to motivate children and their families to achieve fitness together by engaging in fun activities daily.
To successfully complete the challenge, students had to be active via any activity of their choice at least 20 minutes a day for a minimum of 40 of the 55 days during the Oct. 1-Nov. 24, 2012, contest period. The 20 Ohio schools with the highest percentage of participation won dance parties.
"I'm really proud of the kids. They had to do something physical every day and log it on charts," said Dee Pitko, physical- education teacher and Get Active, Get Fit coordinator at the school. "We had 98.9 percent participation from the school's 322 kids in grades kindergarten through sixth."
They could count gym class, physical activities during recess, sports, karate competition, volleyball, soccer, roller skating and some even go home and exercise with their parents and siblings pretending to be a gym teacher, Pitko said.
Pitko thanked her teacher colleagues for their help in giving children time to chart their activities and participation, which extended to Wednesday's party with a teacher dance-off.
Chosen as the winner on the kid scream-o- meter among the six teachers pushed forward by their students was Kristen Chufo of Hubbard, a second-grade teacher. A close second was Denise Claussel of Girard, a second-grade teacher who, along with Kathleen "K.C." Carson of Canfield, sixth-grade teacher, won last year's teacher-dance competition.
This was the third- consecutive year in which Youngstown Community won a Disney dance party, and in 2011, the school won $500 worth of gym equipment.