Canfield students see texting, driving dangers through simulator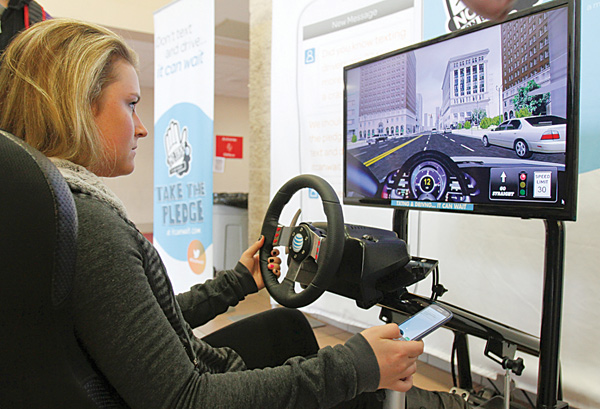 ---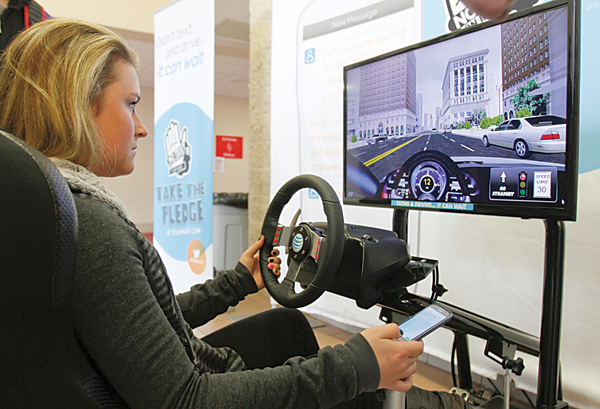 Photo
Rachel Wyand, a senior at Canfield High School, goes through the texting and driving simulator during AT&T's "It Can Wait" program. The program, attended by local law enforcement and county officials, coincided with the enactment of Ohio's texting ban March 1.
RELATED: Lessons can be learned from Warren crash that killed 6 teens
By Susan Tebben
CANFIELD
Canfield High School students were weaving down busy streets Wednesday, speeding through red lights and crashing into vehicles they never saw coming — while the Mahoning County sheriff, Canfield police chief, attorneys and judges watched.
The students were taking part in a texting and driving simulator that is part of a tour by the "It Can Wait" campaign, in partnership with AT&T.
"As an attorney who represents crash victims and having a daughter your age, I know how important this is," said Atty. David Betras, of the law firm Betras, Kopp & Harshman, LLC. It helped host the event at the school.
The event coincided with implementation of Ohio's ban on texting being effective on March 1. For juveniles, being caught texting results in a six month license revocation for the first offense and two points put on the license. For adults, the charge is a misdemeanor offense.
"We will be looking at those tickets very carefully and enforcing the law," said juvenile court Judge Theresa Dellick.
The simulator creates an eight-block course for drivers, with different hazards such as traffic cones, oncoming traffic and unexpected events on the road. A built-in touch-screen phone sends automated texts for the driver to answer.
For the students, the simulator was appealing as a way for them to get perspective, even if the program wasn't exactly like being on the road.
"It felt like it was a little unrealistic, because it kind of forces you into situations," said senior Andrew Russo. "But kids our age think we're invincible, so it's a good reminder of what could happen."
No matter the results on the monitors after students drive, the program makes its difference through the promises the teens make to stay safe on the roads.
"We measure the success of the program with the amount of pledges [to not text and drive] that we get," said "It Can Wait" tour manager Griffin Hagler.
Last year, the program received about 1 million pledges from events such as the one in Canfield, along with online pledging at tcanwait.com.
The event did not just focus on teenagers but also sent a message for parents to be good examples and not text themselves. According to a survey conducted by AT&T, 77 percent of teens have seen their parents text and drive.
"Most of the kids know it's dangerous to text and drive, but this hits home for them," said Stephen M. Kristan, director of external affairs for AT&T Ohio. "And it's not just word [texting] anymore, it's videos and pictures too now."
With the trend toward larger and larger data plans among AT&T customers, the company saw the need to educate drivers on safe practices, Kristan said.
Mahoning County Commissioners Anthony Traficanti and David Ditzler were also on hand at the school to make a proclamation that this week is anti-texting week in the county.