YSU women advance in Horizon League Tournament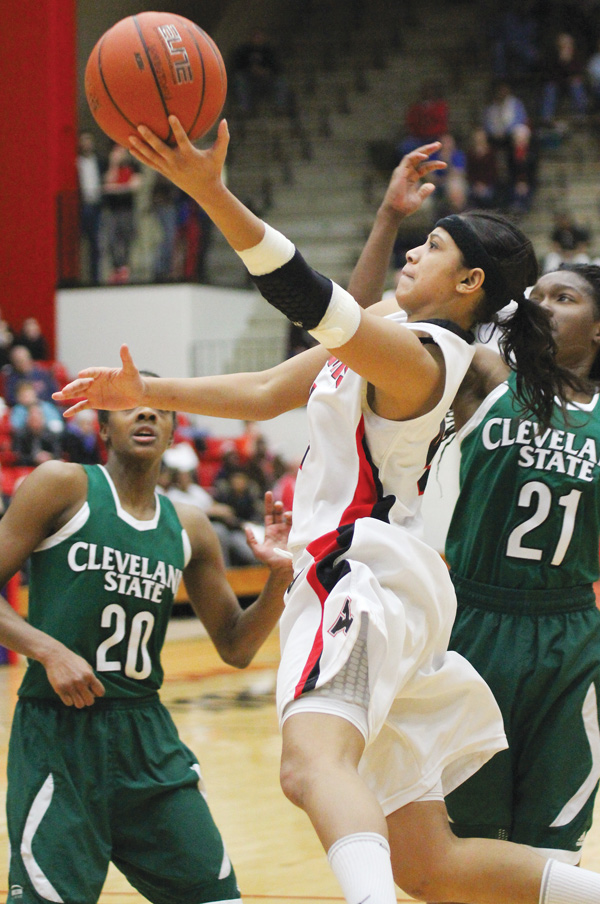 ---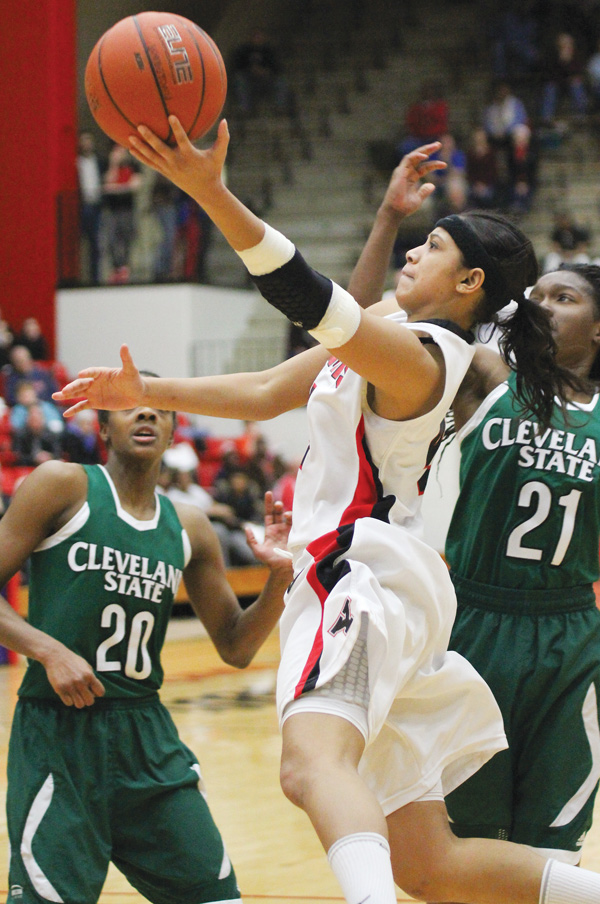 Photo
Youngstown State's Shar'Rae Davis (4) stretches up for a layup against Cleveland State defenders Shalonda Winton (20), left, and Kiersten Green (21) during the second half of the Horizon League quarterfi nal Wednesday at YSU's Beeghly Center. The Penguins bested the Vikings, 69-62, to advance to Friday's semifi nals in Green Bay.
Brown, Davis lead YSU to HL semifinals
By Joe Scalzo
Youngstown
Youngstown state freshman Shar'Rae Davis joked about Brandi Brown stealing her rebounds.
"It's nothing personal," Brown said, laughing. "I didn't really see anyone else. I just saw the ball."
Penguins coach Bob Boldon joked about Brown sneezing midway through her interview.
"Now I get a wet [sweaty] chair and a germ-infested microphone," he said.
Heck, even former YSU coach Ed DiGregorio joked about Boldon's coaching philosophy with Brown.
"Get the ball to Brandi and get the hell out of the way," DiGregorio said.
But Brown's performance, as always, was no joke.
Less than a week after injuring her ankle, the Horizon League player of the year looked as good as ever, pouring in 31 points with 13 rebounds to help the second-seeded Penguins beat No. 7 Cleveland State 69-62 in a conference tournament quarterfinal at Beeghly Center.
"This ranks pretty high up there because it's something that the team did," said Brown, who was 0-3 in conference tournament games. "It's awesome to advance."
Davis, who was named to the league's all-newcomer team this week, added 18 points, eight assists, four rebounds and three steals for the Penguins (22-8), who will play third-seeded Loyola in the semifinals at 6:30 p.m. Friday in Green Bay.
"The difference was knowing we worked so hard — so hard — in the regular season but it all could go away," Davis said. "It doesn't matter about your record now.
"We knew we needed to go out there and give it our all. Otherwise we were going home. We want to make it to the [conference] championship and hopefully win."
Brown scored 20 points in the first half as YSU took a 37-31 halftime lead, then stretched the lead to 16 with 3:47 left. The Vikings (13-17) then went on a 14-4 run to cut the deficit to 64-60 with 25 seconds left.
YSU sealed the win by making 5 of 6 free throws.
"The last 21/2 minutes were terrible, but I thought for the better part of the half, we really picked up our defensive intensity, got some stops, got some rebounds, got some turnovers," Boldon said. "I thought that was probably the difference in the ballgame."
Senior Shalonda Winton, the Horizon's defensive player of the year, scored 19 points with 15 rebounds and three blocks for Cleveland State, which knocked YSU out of the first round of last year's tournament.
"I think that was on everybody's mind," Boldon said. "We remember what it felt like leaving Cleveland State last year."
YSU improved to 2-11 all-time in the Horizon League tournament — the other win came at home in 2008 — and needs two wins to reach the NCAA tournament for the first time since 2000. If top-seeded Green Bay wins the tournament, the Penguins are assured of a WNIT berth.
Hosting a WNIT game costs $6,500 and if the Penguins can get a crowd like they did Thursday (1,648), it would be money well spent.
"We had amazing fans tonight," Davis said. "I felt everyone was into it and ... it got us pumped up. When we play with energy, it's hard to stop us."