Maria Patton, Kevin Wingard to wed in April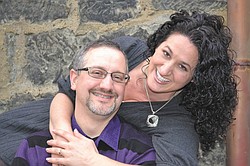 Photo
Kevin J. Wingard and Maria C. Patton
Maria C. Patton of Columbiana and Kevin J. Wingard of Sharon, Pa., are engaged.
The bride-elect is the daughter of David Sr. and Josephine Patton of Austintown. The future groom is the son of Nancy E. Wingard of Hermitage, Pa., and James L. Wingard Jr. of Mercer, Pa.
The couple will exchange vows at 2 p.m. April 27 at Victory Christian Center in Youngstown. Invitations will be extended for an evening reception at Avon Oaks Ballroom in Girard.
Miss Patton attended Youngstown State University and is a personal banker at Home Savings and Loan in Columbiana.
The prospective groom attended George Washington University and YSU. He is an electrical supervisor at V&M Star in Youngstown.