Insurers: Beware of sticker shock induced by overhaul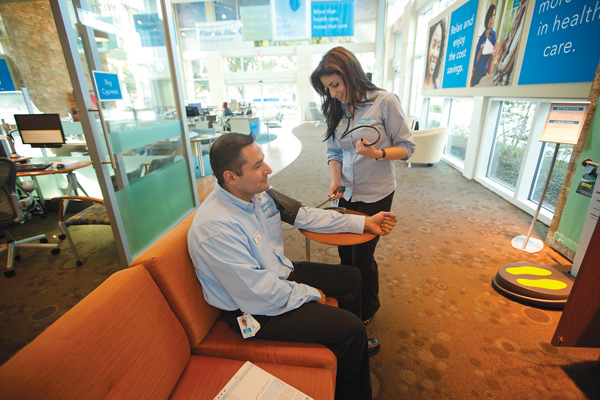 ---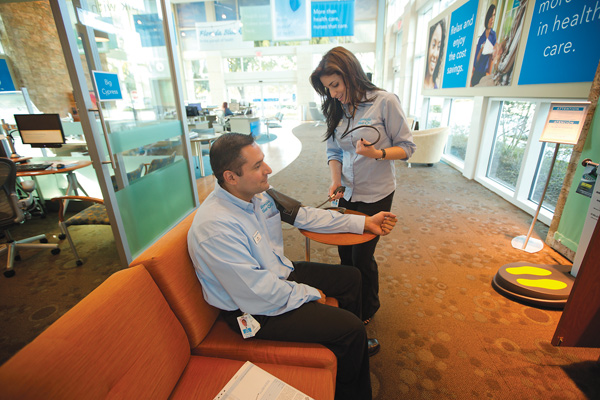 Photo
Yolanda Hormilla, a registered nurse working for Florida Blue, checks Jose Ballivian's blood pressure in the Sunrise, Fla., sales office. Some Americans could see their insurance costs double this year as the U.S. health-care overhaul expands coverage to millions of people.
Associated Press
Some Americans could see their insurance bills double next year as the health-care overhaul law expands coverage to millions of people.
The nation's big health insurers say they expect premiums — or the cost for insurance coverage — to rise from 20 percent to 100 percent for millions of people due to changes that will occur when key provisions of the Affordable Care Act roll out in January 2014.
Mark Bertolini, CEO of Aetna Inc., one of the nation's largest insurers, calls the price increases "premium rate shock."
"We've done all the math; we've shared it with all the regulators; we've shared it with all the people in Washington that need to see it, and I think it's a big concern," Bertolini said during the company's annual meeting with investors in December.
To be sure, there will be no across-the-board rate increases for everyone, and there's no reliable national data on how many people could see increases. But the biggest price increases are expected to hit a group that represents a relatively small slice of the insured population. That includes some of the roughly 14 million people who buy their own insurance as opposed to being covered under employer- ponsored plans, and to a lesser extent, some employees of smaller companies.
The price increases are a downside of President Barack Obama's health-care law, which is expected to expand coverage to nearly 30 million uninsured people. The massive law calls for changes that could cause premiums for people who don't have coverage through a big employer to rise next year — at a time when health-care costs are expected to grow by 5 percent or more:
Changes to how insurers set premiums according to age and gender could cause some premiums to rise up to 50 percent, according to America's Health Insurance Plans, or AHIP, an industry trade group that's funded by insurers.
A new tax on premiums could raise prices as much as 2.3 percent in 2014 and more in subsequent years, according to a study commissioned by AHIP. Policyholders with plans that end in 2014 probably have already seen an impact from this.
Requirements that insurance plans in many cases cover more health care or pay a greater share of a patient's bill than they do now also could add to premiums, depending on the extent of a person's current coverage, according AHIP.
The Obama administration says the law balances added costs in several ways, including tax credits that will bring down what many consumers will pay for insurance.
"The health-care law will bring down costs and save money for young people and families," said Erin Shields Britt, a spokeswoman for the Department of Health and Human Services. "It's misleading to look at one provision of the law alone. Taken together, the law will reduce costs."