Bishop Murry cites 'firsts' of new pontiff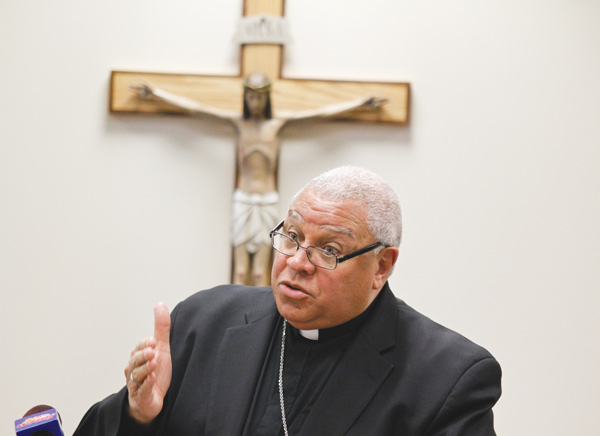 ---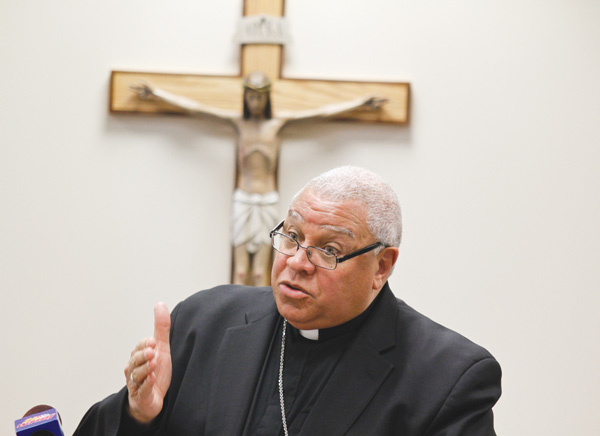 Photo
Bishop George V. Murry of the Diocese of Youngstown offers his thoughts on Pope Francis I, the new leader of the Catholic Church, during a press conference Wednesday afternoon.
• Pope will need to turn page on scandals
• Youngstown Diocese says 2 JFK alumni alleging abuse
By LINDA M. LINONIS
linonis@vindy.com
YOUNGSTOWN
Bishop George V. Murry cited the "firsts" of the new pontiff, the former Archbishop of Argentina, Jorge Bergoglio during a press conference Wednesday at the Diocese of Youngstown offices.
The new leader of the Catholic Church is the first from the Americas, the first from the Society of Jesus (Jesuits) and the first Francis, the name the new pope has chosen, the Bishop said.
A Jesuit himself, Murry couldn't help but be pleased that a member of his order was catapulted to such an honor and challenge.
"The choice is significant ... someone not from Europe ... that's a positive sign," he said.
"The greatest growth [in the Catholic Church] is below the equator, in Africa and Asia," the bishop said. "There is a strong Catholic presence in Brazil."
The bishop said St. Ignatius, founder of the Jesuit order, was a proponent of a "disciplined lifestyle," with emphasis on "training and preparation."
The new pope brings that background to his new role, he said.
Though Murry does not know Pope Francis I personally, he has friends who do.
"Some called me when he was named," he said. "They said he is a 'great guy.' They also said he was a very thoughtful person."
And the new pope also is known for his humility.
Bishop Murry said he also learned that Pope Francis is a "champion of the poor." His choice of name might reflect that concern. St. Francis of Assisi left his privileged background "to embrace poverty and become closer to Christ." St. Francis also was known as a reformer.
In a previous Vindicator story, Bishop Murry said the new pope should be a theologian, teacher, evangelist and administrator.
Pope Francis possesses those qualities, he said.
"Coming from Argentina, where large numbers of Catholics have become evangelicals, he realizes what needs to be done," Bishop Murry said.
"Pope Francis is knowledgeable in theology and he's also studied chemistry, which gives him a sense of science."
The bishop praised Pope Francis' leadership in Argentina, noting that he also "has a reputation as a good administrator" and "also has shown himself to be a teacher ... helping people understand the faith."
Murry said this is "an exciting time" in the Catholic church. But he did admit he was somewhat surprised at how quickly a new pope was chosen.
"There didn't seem to be a front-runner," he said.
He speculated that the new pope would be installed as soon as next week so he could preside over upcoming Holy Week and Easter services.
The Rev. William Loveless, pastor of St. Brendan Church, which has a multi-ethnic congregation, said congregants had texted him about the new pope and are excited he's from South America. One text read, "We have a Latino pope."
Parishioners are "utterly delighted," he said.
Father Loveless said the new pope's choice of a name could be for St. Francis of Assisi, known for his humility and kindness to all creatures; St. Francis Xavier, a Jesuit missionary in Asia; or St. Francis de Sales, known for his gentleness.
"This is history in the making," said the Rev. Gerald DeLucia. "I'm really happy God has made this choice. It's a matter of pride for the Latino culture."
Father DeLucia is president of Cardinal Mooney High School and former pastor at what is now Christ the Good Shepherd Parish in Campbell, which includes St. Rosa de Lima Church and its Spanish ministry.
Father DeLucia said the Spanish-speaking pope represents a growing population of Latino Catholics and brings that to the world stage. It is noteworthy that the new pope comes from "our part of the world," he said.
The pope's choice of name also is significant, Father DeLucia said, noting that the new pontiff's lifestyle is simple, like St. Francis, and he identifies with the poor.
For young people, Father DeLucia said the choice shows the "church is reaching out to youth." Today as the events unfolded,
Father DeLucia said students watched.
"I believe they sensed the presence of God at work. They felt a sense of belonging to something bigger and appreciated the history," he said, adding, "It is a blessing."