LaBrae boys one victory from state tournament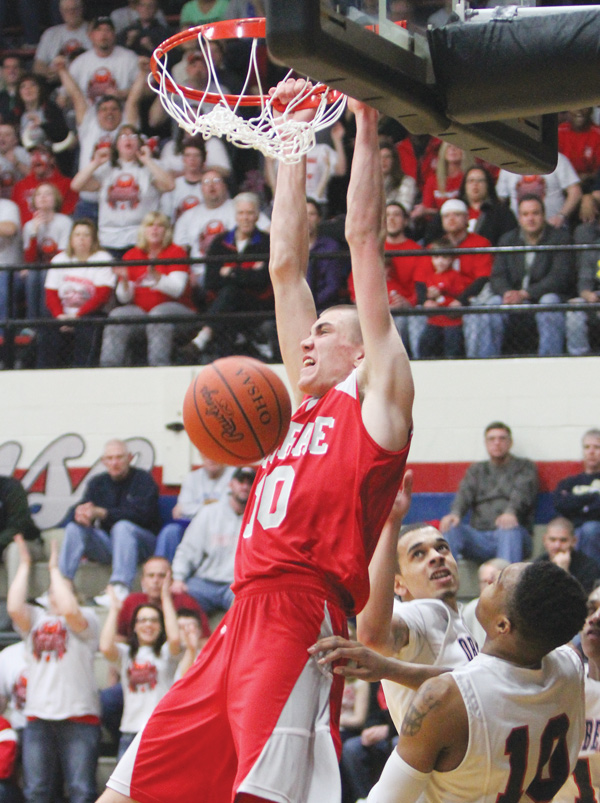 Photo
LaBrae's Peyton Aldridge (10) dunks during the Vikings' 75-52 win over the Oberlin Phoenix in the Division III regional semifinal Wednesday at Canton Memorial Fieldhouse.
By Tom Williams
CANTON
If the LaBrae High basketball team's performance in the biggest victory in school history was a dream come true for coach Chad Kiser, Peyton Aldridge was an absolute nightmare for the Oberlin Phoenix.
In the opening quarter, Aldridge scored 11 points and made three rebounds as the Vikings (23-3) ran away with an easy 75-52 victory over Oberlin in the Division III regional semifinal on Wednesday at the Canton Field House.
Aldridge finished with 28 points, 12 rebounds and a block.
"They've got a goal in mind and they are working to achieve that," Kiser said. "We want to make history — go to Columbus."
Next up for the Vikings will be Beachwood, which defeated Louisville St. Thomas Aquinas (winner of the Salem district), 54-50, in the other semifinal.
Beachwood and LaBrae will tip off here on Saturday at 7 p.m.
"The goal is to make school history which we did tonight," Kiser said. "This is the furthest we've ever made it.
"Twenty-three wins — we made 22 last year. Each year we've improved."
The Vikings were red-hot from the field, making 30 of 50 shots.
"We had to stay focused," said Aldridge after the Vikings jumped out to a 32-13 lead in the second quarter. "We believed if we stuck to our game, we'd [cruise]."
Oberlin coach Kurt Russell said his players had no answer for Aldridge, a 6-foot-7 junior.
"He's the real deal, an excellent ballplayer inside and out," Russell said. "He was a hard matchup for us.
"We thought maybe we could double-team him, bring somebody over backside," Russell said. "But he's so long and athletic where he could cause us so much problems."
In the first half, the Phoenix (18-8) had one promising moment, closing the second quarter with an 8-0 run that sliced the Vikings' lead to 11 points.
Asked if that frustrated his team in the locker room, Aldridge said, "Not really. We thought we shouldn't have given up that run.
"We were a little upset with ourselves, but I wouldn't say disappointed."
Kiser said the passing became a little too fancy.
"There were a couple times in the first half where we got the lead and got nonchalant with it," Kiser said. "We lost our focus and weren't ready for [passed] balls.
"We actually hit guys who were open and they weren't ready for the ball," Kiser said. "We were passing a little too well a couple of times."
The Vikings shook off any halftime frustrations with a strong third quarter not dominated by Aldridge. He was too busy passing to open teammates.
John Richards hit two 3-pointers while Marcell Richardson shook off the effects of last Saturday's head-on collision with Ursuline's Desmond McElroy to score two baskets and make two free throws.
"It was great to have him ready to go," said Kiser of Richardson who was unable to finish Saturday's double-overtime win over Ursuline. "He played well — good defense."
Richards finished with 10 points while Carl Brown scored nine and point guard Chris Clevenger had six points and four assists.
"The third quarter, the way we came out, I feel that's when we just closed the game," said Clevenger one of four seniors who started. "Everything just started falling through [the net]. It was a good night."
Kiser agreed that winning the third quarter by a 23-12 margin "was big. At this time of year, teams are fighting for their lives and they are going to give you everything they've got. You can't come out and play tentative."
Oberlin's Jason Moore scored 17 points and had nine rebounds. Charles Lewis scored 12 points.