Boy Scout values provide moral compass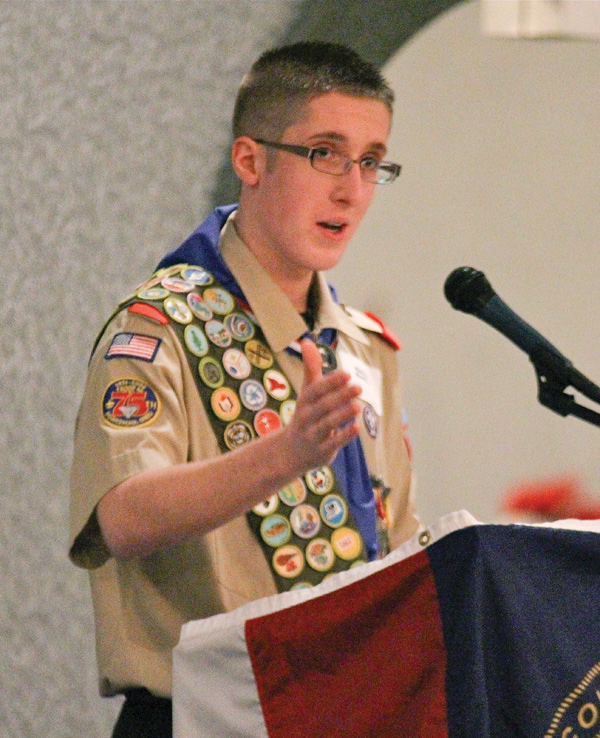 ---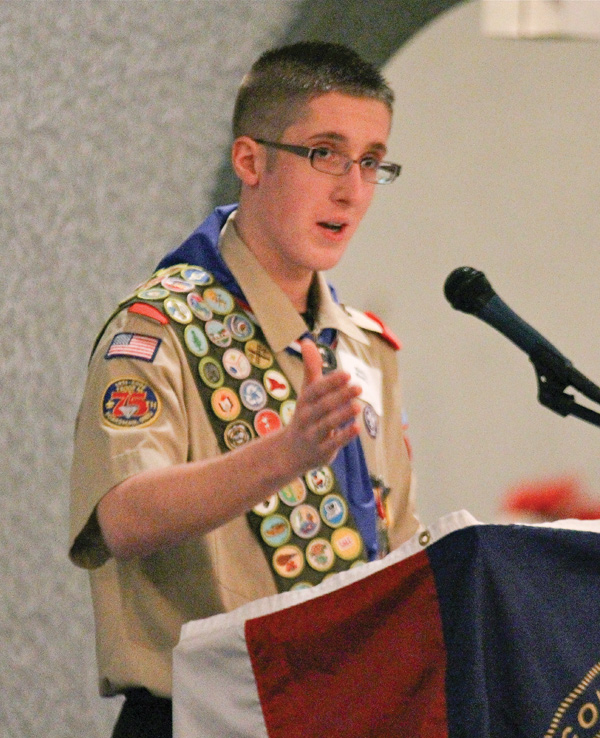 Photo
Eagle Scout Marcus Masello of Boardman, a student at Boardman High School, spoke at the event. Other speakers were Perry Chickonoski, 2013 Golden Eagle honoree, and Don Groszek, president of Boy Scouts of America Greater Western Reserve Council.
BOARDMAN
Eagle Scout Marcus Masello said Scouting took him as a boy and made him into someone people can depend on.
The 2013 Golden Eagle honoree, Perry Chickonoski, said Scouting's core values provided the "moral compass" that brought him back to church as a young man and "kept me straight."
Masello, a junior at Boardman High School, and Chickonoski, vice president and senior banker for JP Morgan Chase Bank in Youngstown, were featured speakers for the Whispering Pines District Greater Western Reserve Council Celebration of Scouting.
The breakfast fundraiser Tuesday at Mr. Anthony's Banquet Center hosted Boy Scout program supporters, including a number of Eagle Scouts from the past, and recipients of the Silver Beaver Award, scouting's highest recognition for an adult volunteer leader.
Masello, the son of Tony and Kathy Masello, joined Troop 46 at Boardman United Methodist Church in 2007, and is chaplain aide and a member of the Order of the Arrow there.
At school, he is a member of the debate team, chorale, Environthon Team, Key and Science clubs, LINK Crew, and is president of the Computer Club. He and his family are members of St. Charles Parish, where he is an altar server and member of the St. Charles Youth Group.
Masello said he had fantastic experiences as a Cub Scout, but it wasn't until he became a Boy Scout that he began to learn the skills that led to an entirely different style of living.
"Being prepared is a state of mind that can keep you afloat at all time. The skills you learn in Scouting prepare you for life," said Masello, whose Eagle service project at Loghurst Farmhouse and Museum in Canfield was to create a time line of events, starting in 1780, and continuing each decade to the present.
Growing up in Struthers, Chickonoski was a member of Troop 101, where, in 1979, he achieved the rank of Eagle Scout and was named an Order of the Arrow Vigil member. That same year, he graduated from Struthers High School and enrolled in college.
While he said he remembered the Scout oath and law, "I'd be lying if I said I always lived by them."
He said he partied too much and dropped out of college and came home.
But he made a New Year's resolution to go back to church; and returned to college and graduated summa cum laude with a bachelor's degree in business administration with a major in accounting from Youngstown State University.
"The Scout values kept me straight," he said.
Fast-forward 27 years.
"I've been married 20 years and have three solid children. That's what Scouting's core values do. They instill a moral compass that can bring you back when you make wrong decisions," he said.
Chickonoski worked several years in public accounting before embarking on a banking career that has spanned nearly 25 years. His community involvement has included board positions at the Downtown Youngstown Lions Club, Center for Community Empowerment, Ohio Sales Tax Reform Incentive and High Pointe Assembly of God Church.
He and his wife, Joy, and their children, Carley, Cami and Perry III, live in Poland Township.
"I stand proud in my Scout uniform. It is a part of our program that demonstrates membership in a special group and provides a place to display advancements," said Don Groszek, president of the Boy Scout's Greater Western Reserve Council, head-quartered in Warren.
Being outdoors also is a part of Scouting that provides opportunities to teach preparedness life skills, said Groszek.
But keeping camping facilities maintained and safe costs money, which was the focus of the fundraising breakfast when Groszek asked participants for gifts or pledges.
"Our goal is to have more people in the community doing a good turn daily and to reach more children, and we need your help," he said.