Youngstown Christian boys one win from state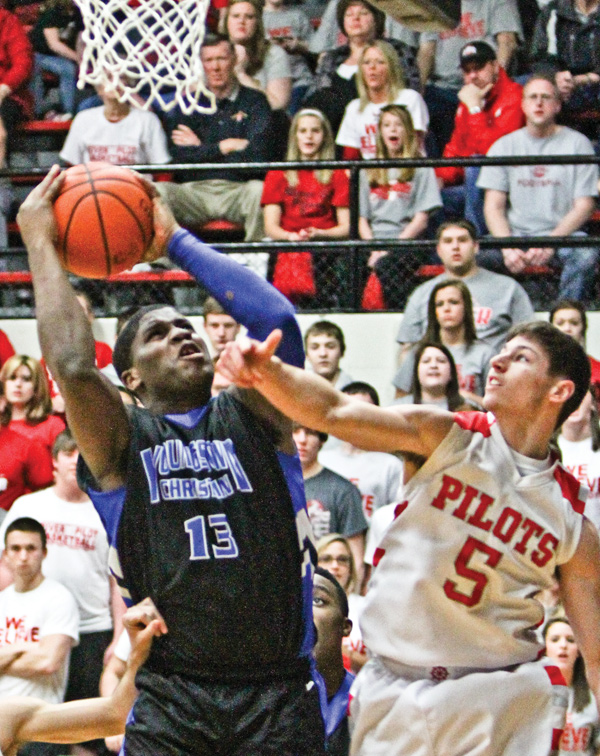 ---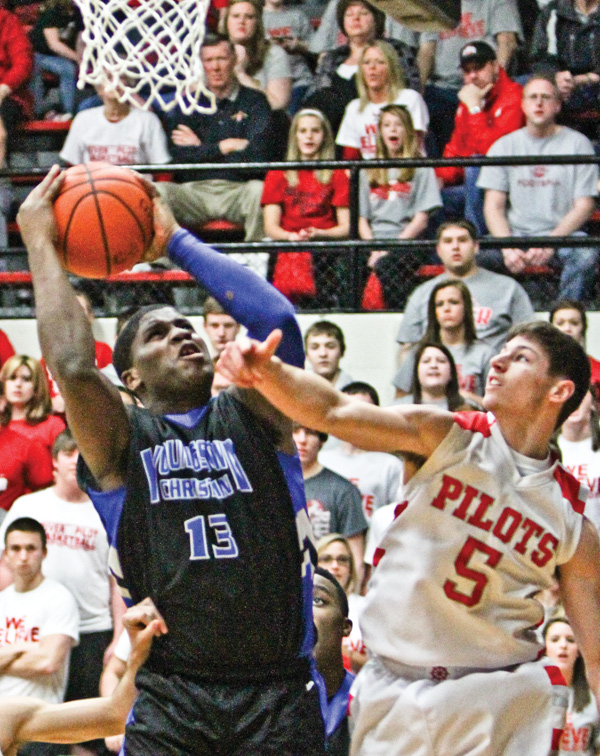 Photo
Youngstown Christian's Tymere Dubose (13) shoots over Hannibal River's Kameron Brown (5) during a Division IV regional semifinal Tuesday night at the Canton Memorial Fieldhouse. Youngstown Christian won, 60-49.
By Tom Williams
CANTON
After watching the Hannibal River High boys basketball team open the second half with a 6-2 run for a 10-point lead, Youngstown Christian coach Dolph Carroll wasted no time calling time.
His clipboard smacked the court and his message was crystal clear.
"Defend and rebound," Eagles junior Tymere Dubose said of the timeout speech. "He wanted us to keep playing hard and stop giving them easy offensive rebounds."
The Eagles wasted no time seizing control of the game, going ahead in a little more than three minutes in Tuesday's 60-49 victory in the Division IV regional semifinal at Canton Fieldhouse.
After the timeout, the Eagles (16-8) went on a 16-3 run to end the quarter then led the entire fourth quarter as the Pilots (19-8) struggled to get the ball upcourt and find open shots.
"We really hit on all cylinders tonight," said Carroll whose Eagles will play Cleveland Villa Angela-St. Joseph in Friday's regional championship game.
Dubose scored 21 points and made six rebounds while senior Nick Gonda scored 14 points.
Carroll, who is coaching in his second regional in five seasons, said nerves were a factor when the Eagles trailed 29-23.
"It's a big stage, these guys have never been here," Carroll said. "My goodness, we weren't supposed to be here — we were the eighth seed [at the Struthers district].
"For us, this is a huge venue so we were brain-dead for a little while."
Gonda said Carroll's message was simple.
"We just needed to get fired up because they started getting offensive rebounds," Gonda said. "Once we started to get into the flow, we started coming back."
The Pilots found open shots much harder to come by in the final 13:45 when the Eagles outscored them 35-14.
It was quite a reversal from when they trailed 35-25. Gonda, Dubose and Darien Townsend scored the next seven points to get back into the game.
Later, Townsend stole the ball and fed Daylen Williams for an easy layup for a 39-38 lead.
Williams scored eight points and made six rebounds, six assists and seven steals. He said getting back late "was our biggest problem.
"When he called timeout, we had that in our heads, that we had to get back and rebound," Williams said.
Carroll said responding to adversity is nothing new.
"Our schedule is such that we've really had to play up all year long," Carroll said. "We were in most games and in the last eight games, we finally learned how to win late."
The Eagles dominated in the fourth quarter, outscoring the Pilots, 19-11.
"I think we've played better," Gonda said. "This wasn't our best game."
Williams said the game "was so much fun. Nobody thought we would make it here so that made it all the better."
In the first half, the Pilots capitalized on long-range shots once they broke through the Eagles' pressure. Brett Price scored 13 points while Cody Caldwell had seven.
"A lot of it was we were not getting back on the weak side," Carroll said.
Dubose said he felt like "a weight was lifted off me" when the final buzzer sounded.
"It felt good," Williams said.
Price led the Pilots with 21 points while Caldwell had 15.
Carroll claims he said nothing special during the timeout.
"I just yelled at them a lot and told them we had to defend," Carroll said. "We had to adjust to what they were doing. Our rotations weren't good.
"It wasn't any great coaching — we just had to calm them down," Carroll said.