YSU men end long tournament drought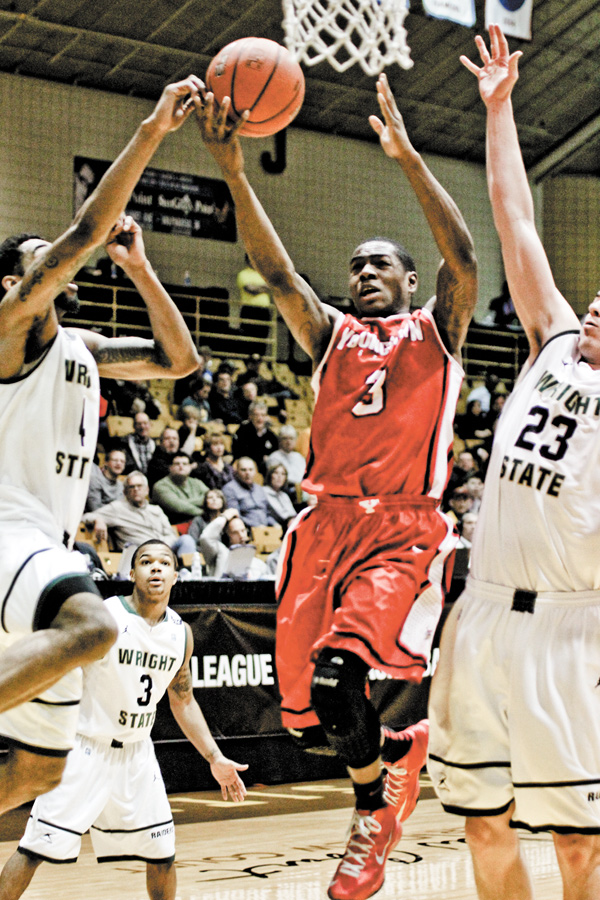 ---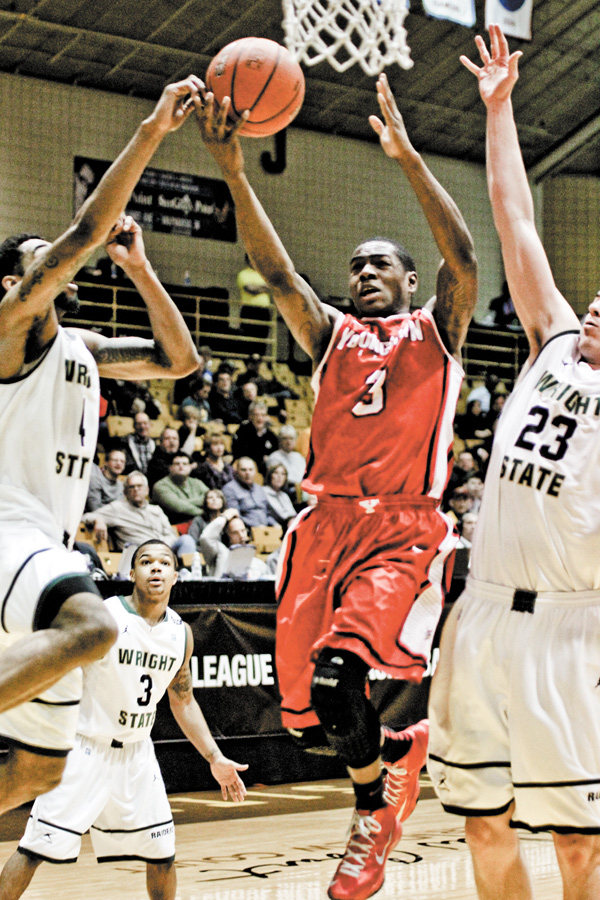 Photo
Youngstown State's Kendrick Perry (3) drives against Wright State's Jerran Young (4) and A.J. Pacher (23) during a Horizon League tournament game Friday at Valparaiso. The Penguins lost, 66-59, but Perry and his teammates aren't finished. YSU has accepted a bid to the CollegeInsider.com tournament.
By Joe Scalzo
YOUNGSTOWN
Last Friday, after his team had lost a tough game to Wright State in the Horizon League tournament and his senior teammates were wondering whether their college basketball careers were over, Youngstown State junior guard Kendrick Perry got some very good news.
He wouldn't have to spend spring break in Florida.
"The guys were pretty down and, obviously Blake [Allen] and Damian [Eargle] thought they weren't going to play again, but coach settled us down pretty quickly and let us know we were invited to a tournament," said Perry, who hails from Ocoee, Fla. "Now we're taking everything in stride and living in the moment."
For the first time in their 32-year Division I history, the Penguins will be playing postseason basketball. YSU accepted an invitation to the 5-year-old CollegeInsider.com tournament and will host a first round game Tuesday night against an opponent to be named.
YSU has not played in a postseason tournament since the 1977 Division II tournament. The CIT and the 16-team College Basketball Invitational (CBI) are considered to be on the third tier of postseason tournaments behind the NCAA and the NIT. Kent State and Valparaiso have played in the CIT in recent years and UIC has been accepted this year.
"I think it's a progressive step of where we want our program to be," YSU coach Jerry Slocum said. "We hope this parlays into a traditional kind of thing.
"We're ecstatic with this opportunity."
The Penguins (17-15), who posted consecutive winning seasons for the first time since 1985, will pay $35,000 to host a first-round game.
Slocum said if YSU wins, the school may be interested in hosting successive games, provided the community supports the games. The cost is the same for each round, with second-round games held March 21-23, followed by quarterfinals (March 24-26), semifinals (March 28-30) and the April 2 championship game.
"The fact that the university would do that for us, I think it speaks of where we want to be and where we're going," Slocum said. "At the same time, we hope a lot of people come out and not make it a financial burden for the university. If we get 2,500-3,000 people in here, it shows our university that our community is gonna support us and takes away probably about 75 percent of the cost of hosting it."
Tickets are $10 for reserved and $7 for general admission. YSU students get free admission.
"I think this [bid] is a huge step," said Perry, who should be back at full strength after missing the last four regular season games and part of the tournament game with a knee injury. "Every year we're getting a little better and I think it shows the commitment to excellence in the program."