Meeting changes Youngstown Christian's season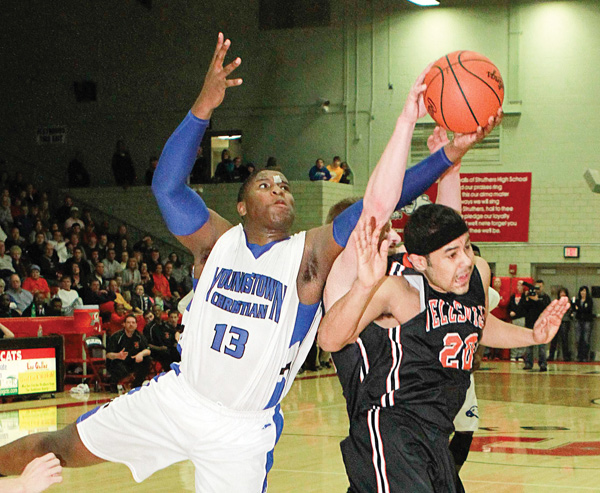 ---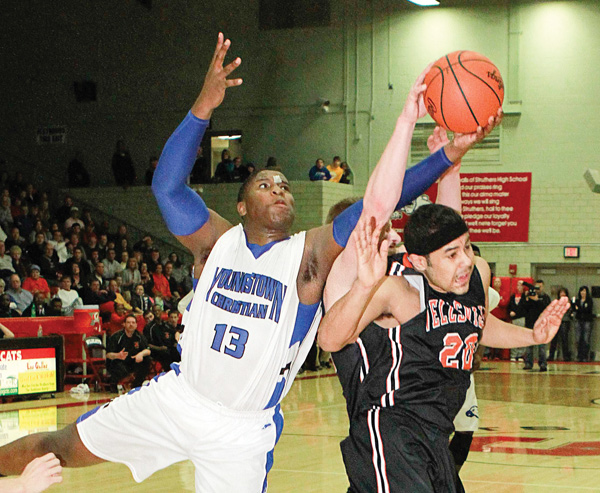 Photo
Youngstown Christian's Tymere Dubose (13) and the rest of the Eagles will meet Hannibal River in tonight's Division IV regional semifinal at the Canton Fieldhouse.
By Steve Ruman
YOUNGSTOWN
Youngstown Christian coach Dolph Carroll was a bit surprised Friday when he walked into the locker room to greet his team following a 75-73 win over Wellsville. The Eagles had just captured a district championship, and Carroll expected to encounter a loud and raucous group of players.
"Don't get me wrong, they were excited and all, but at the same time there was a sense that they weren't yet satisfied," Carroll said. "I wanted them to savor the moment. They earned it. They appreciated what they accomplished, but they also showed that they're hungry for more."
Given where the team was just a short month ago, it would be understandable if Carroll's players were perfectly content with a district title. On Feb. 11, the Eagles were 7-8 and looking for answers.
"We were getting ready to play Springfield the next day, and instead of having practice we held a heart-to-heart meeting," Carroll said. "We talked about who we were as a team, and what our goals were.
"More importantly, the players talked to each other. They brought out all of the clich s imaginable, but there were sincere in what they said."
The Eagles went on to beat Springfield by nine points, and haven't lost since. They closed their regular season with four straight wins to finish 11-8, still only good for an eighth seed in the Struthers Division IV sectional/district.
Relatively easy wins over East Canton and Southern gave YCS a sectional title. Dramatic last-second victories over second-seeded Mogadore and top-seeded Wellsville propelled YSC (15-8) to the regionals for the first time since 2009.
Against Mogadore, YCS trailed 33-24 at halftime. Fittingly, another speech helped trigger the comeback.
"Our coaches just told us that we had to go out and play our game, we had to finish the run that we started," YCS senior Daylen Williams said. "We were sort of hanging our heads going into the locker room. But once we got inside, we decided we weren't ready for the season to end."
Williams scored a game-high 23 points, including a 3-pointer with under a second remaining, to lift the Eagles to a 52-51 victory.
Against Wellsville, YCS received 17 points from Jayquan Yanno and 15 apiece from Darien Townsend and Williams.
"We got a lot of balance," Williams said. "I feel good having the ball in my hands at the end of a tight game. But if it's in the hands of one of my teammates, I have just as much faith."
YCS faces Hannibal River tonight at 6:15 in a regional semifinal at the Canton Fieldhouse. The winner faces either Cleveland Villa Angela-St. Joseph or Windham.
River (19-7) advanced thanks to a 56-49 overtime win over two-time defending state champion Hiland. The Pilots are led by senior Brett Price, who is averaging 21 points per game. In the district final, Price scored 31 points, pulled down 12 rebounds, had five assists, five steals and a blocked shot.
Cody Caldwell, Jordan Indermuhle, Kameron Brown and Matt Marconi, all seniors, round out the starting five. The Pilots' first two players off the bench are also seniors.
River has won 50 of its last 70 games.
"They beat the defending state champs and a top-seeded team; that's all you need to know about how good they are," Carroll said of his next opponent. "And with a roster full of seniors, you know they won't get rattled about playing in Canton."
Still, Carroll is excited about his team's chances.
"We have play-makers, and our guys won't back down to anyone," Carroll said. "We're hitting our stride. This is the time of year anything can happen. That's why they call it March Madness."