PROBE CONTINUES INTO CRASH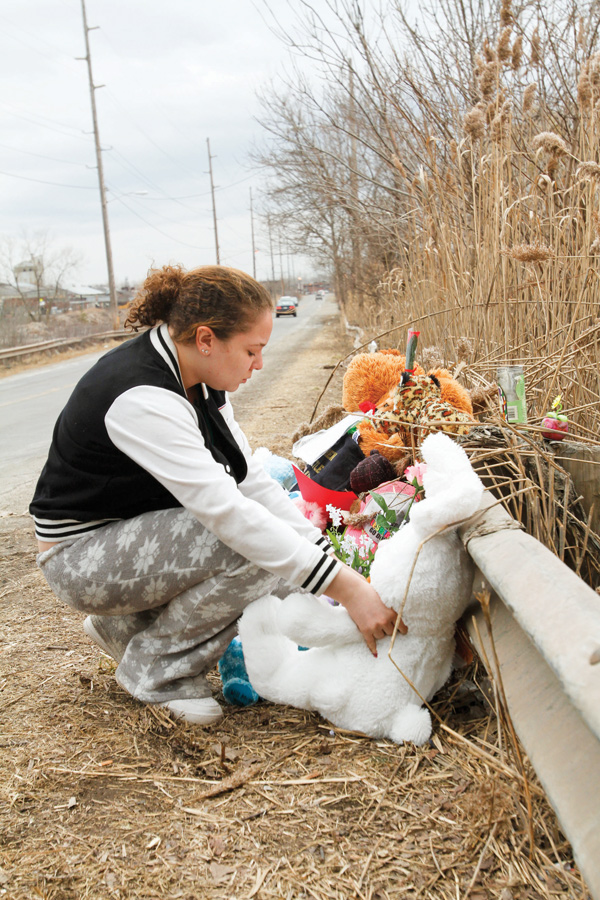 ---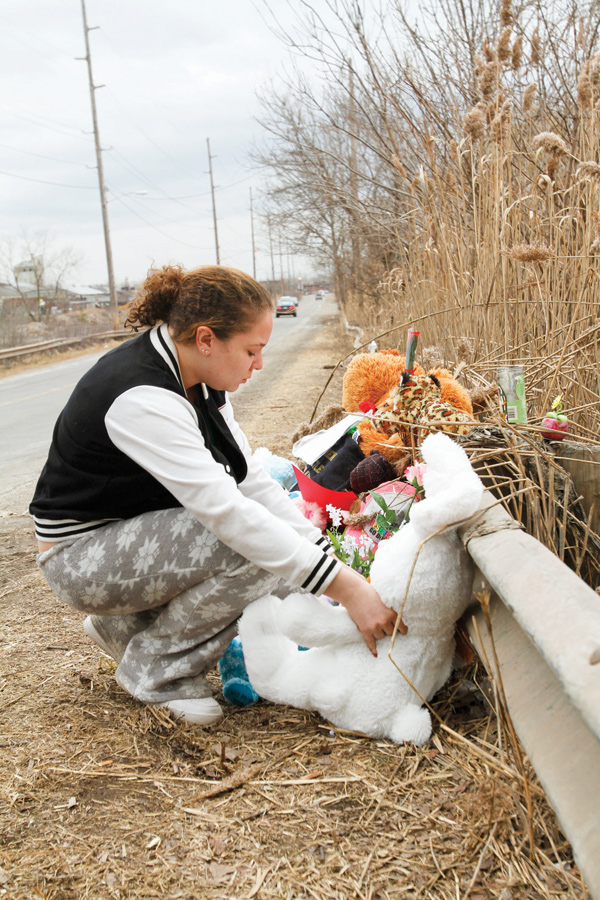 Photo
Teiranny Hardman of Warren places a stuffed animal Monday at the scene where six Warren teenagers were killed. The Sunday morning crash on Niles-Warren River Road occurred just north of Burton Street and across from the former RG Steel mill near the Warren-Howland Township line.
By Ed Runyan
WARREN
As investigators continue to question what five boys age 14 and 15 were doing in a sport-utility vehicle at 7 a.m. Sunday before the worst vehicle crash in Trumbull County history, a survivor recounted his dramatic escape.
"We was almost home and she speeded up, and I told her, 'Slow down, slow down, slow down,'" said 18-year-old Brian K. Henry II.
Six teens in the vehicle were killed, including the driver.
The father of victim Andrique Bennett, 14 — who was known as "Butter" — thinks they "were trying to get home."
"They were at the movies, they stayed at a friend's. They put their trust in someone else's hands," Andre Bennett Sr. said Monday. "They were all innocent little kids."
Others dead are Kirklan M. Behner, 15; Daylan Ray, 15; Brandon A. Murray, 14; and Ramone M. White, 15.
They and 19-year-old Alexis Cayson died after the vehicle Cayson was driving overturned in a pond and filled with water on Niles-Warren River Road Southeast.
A community prayer vigil Monday night at the ACOP Center on Niles Road memorialized the young victims.
Another 15-year-old, Asher C. Lewis, survived with Henry.
Henry, interviewed Monday afternoon, said he got into the car after the younger boys, so he doesn't know where they had been before that — but they told him they had been "at the mall and they were coming from a party or something."
Henry said he succeeded in getting Cayson to slow down just before the crash, but she sped up again.
SURVIVOR'S account
"She sped up again and then she jerked or, if it was how fast she was going, the wheel jerked on its own, and we hit the [guard] rail. The whole car flipped over into the water," Henry said.
"I hit my head on the dashboard and then I blacked out after that, but it threw me into the back seat. While I'm in there, I woke up because the water was super cold," he said.
"It woke me back up. I saw the first light. It was so dark in there. Upside down, I went to the first light I seen. It was a window. The windows were rolled up. And my friend Andrique Bennett — he was like, 'Bust a window, Beezie, bust a window.'"
"I was hitting the window multiple times. Eventually I got out, but half of my body was out and my feet were still tangled in the seat belt, but I managed to get my top half out."
Henry said he broke out the rear window with his elbow and went to shore.
"All I saw was my friend coming behind me, Asher Lewis. I get up on land. I go up over the rail and try to stop two cars, but they just ride right past me, so I ran to the nearest house I could go to to get help."
ONGOING INVESTIGATION
The Ohio State Highway Patrol, in a statement Monday night, said it has been determined that the vehicle was traveling on Niles-Warren River Road, not Pine Street Southeast. The guardrail, however, is within the Warren city limits. Niles-Warren River Road is a continuation of Pine Street. The site is a mile south of downtown Warren in an industrial area near the former RG Steel mill and other industrial facilities.
The owner of the vehicle, Marquis Stephenson, filed a theft report on the vehicle with Warren police at 12:02 p.m. Monday. Stephenson told police the vehicle was taken from North Feederle Road in Warren.
The 1998 Honda Passport was inspected, and there were no defects found that would have been a contributing factor in causing the vehicle to lose control, the patrol said, adding none of the eight occupants was wearing a safety belt.
Results of blood tests to determine whether alcohol or drugs were involved are pending.
Lt. Brian Holt of the patrol's Southington Post said his agency has spoken with Henry and Lewis, but the agency is "still determining" what the teens were doing the evening before the crash and where they were headed.
Holt said it's also not clear what caused the 6:56 a.m. wreck, other than indications that Cayson was driving too fast. Marks on the road and guardrail indicate the car veered left, hit the guardrail, then flipped into a 5-foot-deep pond and overturned.
Lewis and Henry, after escaping, ran a quarter-mile to get help at the nearest house on Burton Street.
A FATHER RECALLS
Bennett Sr. said he saw his son playing basketball Saturday afternoon near the Bennett home on Belle Street with two of the other boys who died, and he believes the boys were among a group who went to Niles later to watch a movie.
"It was always to go out and to the movies on Saturdays," he said of the boys' habits. Bennett said he doesn't believe the boys were at a party because "there are no parties at that time."
As for Niles-Warren River Road, that's how he'd expect someone to travel if he or she was taking those kids home, because most of them lived just a short distance from where the crash occurred — in the southeast area off Niles Road.
From the west side, people frequently take that road south off South Street, then take a left on Burton Street to Henry's house on Milton Street or to the Trumbull Homes apartments, where some of the boys lived.
Bennett said he's been told Cayson was at the house where the boys stayed Saturday night, and Cayson offered to give them a ride home. Bennett said he doesn't know where they stayed.
Bennett said he once took his son and his friends home from the mall, overloading his car, to make sure they made it home safely, so he understands eight people piling into a vehicle designed for five.
Bennett said his son, an eighth-grader at Willard K-8 School, was gifted in music and "had a big heart." When one of his friends didn't have a nice shirt to wear somewhere, Andrique asked his dad for one. "He'd come to me and beg me for a shirt," he said.
Andrique also told his friends and family on a regular basis, "I love you," Bennett said.
COMMUNITY VIGIL
Hundreds of people packed the basement of the ACOP Center at 2051 Niles Road SE Monday evening and later released balloons into the rainy, gray skies as a tribute to the victims.
The Rev. Robert Lewis, of the House of Prayer on Wick Street Southeast, said he's "so tired of the vigils" and losing young people who are supposed to be the next leaders of the community and the nation.
"You guys are so afraid to live, but you're not afraid to die, and that's so sad," he said, apparently directing his comments to the young people.
Mayor Doug Franklin said losing people so young "seems so unfair, but we're going to learn from this. A lot of people are with us. We're not going to let this loss of life be in vain."
DEADLIEST CRASH
The state patrol's Holt said the accident is the deadliest car crash in Trumbull County history. It is the deadliest in Ohio in the past three years, Holt said.
The 911 call that brought firefighters from Warren and Howland to the accident scene came from the house on Burton where the two survivors ran. The resident there told the 911 operator that two young men were at her house with cuts and bruises they said they had gotten from a car accident.
The next call was from an employee of Stericycle just south of the accident scene, saying he heard a crash and saw a car upside down in the pond.
The dispatcher called the woman back and learned from the youths that there might be others still in the car, so she dispatched the Warren Fire Department and Warren Police Department.
Fire Chief Ken Nussle said there were four firefighters at the scene trained in cold-water rescue, and they were putting on their wetsuits as they traveled to the accident.
"Our rescuers were in cold-water rescue suits in the water within minutes of the 911 call," Nussle said.
Nussle said the teens probably were trapped in the car for more than 20 minutes by the time firefighters got to the car, but the firefighters didn't know that, and "it was treated as a rescue effort."
As soon as a teen was pulled out, he or she was handed off to a paramedic from the Howland Fire Department or the MedStar ambulance service, "trying to revive them," Nussle said.
Firefighters retrieved each teen through a car door that firefighters got open, Nussle said.
THIRD TRAGEDY
Franklin pointed out the tragedy is the third large-scale loss of life the city has suffered in 21 months. Four children and two adults died in a house fire on Landsdowne Street Northwest in June 2011, and two children and two adults died last March at a house fire on Austin Avenue Northwest.
"We're a community that celebrates our victories together ... but we're also a community that pulls together and cares for each other at times like this," Franklin said.
Warren Superintendent Michael Notar said he considered closing the schools Monday but decided to keep them open to ensure access to counseling.
"We actually had some of the siblings of the deceased that came to school today," Notar said. "I think they needed that support. I think in times like these, [grieving children] reach out to teachers and other students that they feel comfortable being around, so we just want to keep our doors open for our students to provide that support that they might not get if you close school."
About 200 people turned out at the Willard K-8 School Sunday night to talk to counselors. Many of the dead teens, all of whom attended Warren City Schools, lived near the Willard K-8 School.
Notar said he was going to speak to the students at Warren G. Harding High School at the end of the school day about "safety and good decisions."