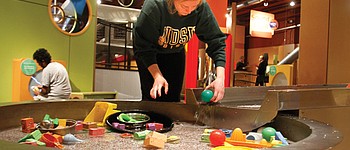 Hospice chaplain ministers to the dying
Published: 3/12/13 @ 12:05
By LINDA M. LINONIS
Canfield
As a hospice chaplain, Pastor Jay Eastman ministers to individuals and families during a traumatic time — the last six months of life.
In 2012, the pastor of Canfield Christian Church (Disciples of Christ) and chaplain of the Canfield Police Department became the first hospice chaplain to graduate from the Clinical Pastoral Education led by the Rev. Darryl Hanson of Spiritual Care and Education Center in Toledo. Pastor Eastman was a volunteer chaplain from 1995-99 with Hospice of the Valley, Humility of Mary Health Partners. In 2000, he was hired as a hospice chaplain.
Pastor Eastman holds a divinity degree from Master's Divinity School in Indiana. He said he shies away from using his doctor title. As part of that, he dresses casually.
As a hospice chaplain, Pastor Eastman said he "offers emotional and spiritual support" to the dying and their families. The chaplain gets involved by patient request. Most of his home-based patients are in Trumbull County with some in Mahoning County, while nursing home patients are in both counties. Hospice chaplains are on call 24/7.
Theology intertwines with behavioral sciences when he assesses a patient.
The chaplain's work is supported by a team of medical personnel, social workers and volunteers who offer respite for family caregivers.
"We're there to give support ... not take the place of caregivers," he said. But, he emphasized, hospice chaplains and team members are "experts in end-of-life care." The focus is palliative, not curative, treatment, he added. "It's not prolonging or shortening life but improving the quality."
Though chaplain is the description, Pastor Eastman said, "No religious conviction is pushed. I'm the mentor on their journey."
Age sometimes influences how people react to terminal illness and faith, the pastor said. "Older people tend to have more faith. They've come to terms with facing the end of life," he said. "Younger people, some who have no faith, often feel cheated."
Pastor Eastman said chaplains are there "to listen to how they feel, not tell them how to feel — old or young."
People often ask if "God is mad at them" if they have cancer or another disease. "Why me?" is a common question, the pastor said. "Even people of faith question why they are going through this."
The pastor added that for family members going through the death of a loved one, "your loss is the greatest loss, and you can't compare it with anyone."
He described death of a loved one as something "you never get over ... but you work through it."
"Grief will take its own course. No one can tell another how to grieve," he said.
Pastor Eastman added that hospice is for anyone with a diagnosis of six months or less to live. "It's not only for cancer patients, but other diseases like Alzheimer's, ALS (amyotrophic lateral sclerosis, often referred to as Lou Gehrig's disease), dementia, [and] COPD (chronic obstructive pulmonary disease," he said.
He said this is the time "when you need to be able to say the things you want to." But, he acknowledged, "People are reluctant to open up."
Pastor Eastman said he talks with, reads to, listens to and has even sung to patients. He's held hands and sat quietly with the patient and family. "I want to make their journey as positive as I can."
The most rewarding part of his job, Pastor Eastman said, is positive feedback that he has been helpful to a patient and family.
Don't Miss a Story
Sign up for our newsletter to receive daily news directly in your inbox.