Published: Mon, March 11, 2013 @ 9:40 a.m.
Video Set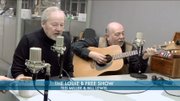 Ted Miller and Bill Lewis of the County Mayo Irish Band visit Louie Free and Todd Franko to talk and sing a few songs in ...
Get in the spirit of St. Patrick's Day with the Valley's favorite Irish band, County Mayo, live on air with Louie Free from 10 to 11 a.m. today!
Listen to the festivities at www.vindy.com/louie-free.
To listen from your iPhone or iPad, go to www.vindy.com/mobile/vindy-radio/.