Two surprises off to Canton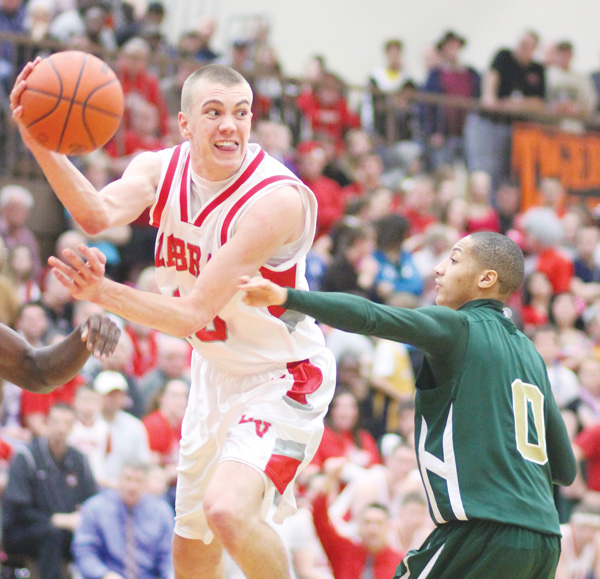 ---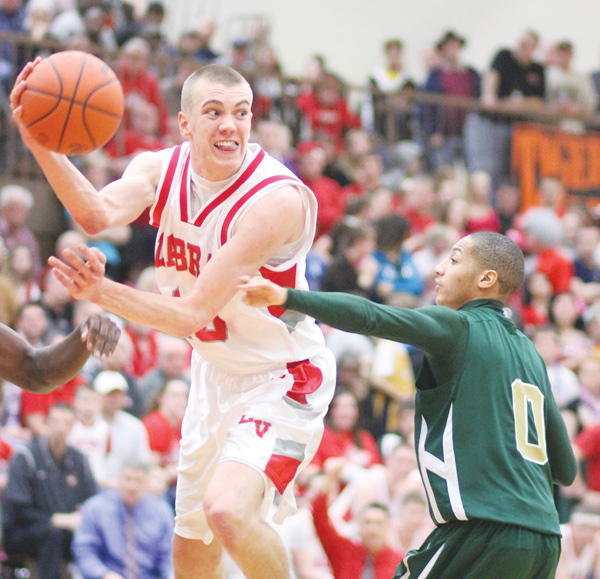 Photo
LaBrae's Peyton Aldridge (10) passes over Ursuline's Desmond McElroy (0) during the Vikings' 68-61 double-overtime win for the Division III district title Saturday at Howland. Cardinal Mooney and Youngstown Christian also advance to regional play this week in Canton after winning their districts — Division II and IV, respectively — over the weekend.
By Tom Williams
YOUNGSTOWN
Anyone who has seen LaBrae junior Peyton Aldridge play is not surprised that the Vikings are making a trip to the high school regional basketball tournament.
Anyone who saw Cardinal Mooney's 40-24 win over Youngstown Christian on Dec. 14 might be shocked that those are the Mahoning Valley's other regional representatives.
Regional week gets under way on Tuesday at the Canton Fieldhouse when Youngstown Christian plays Hannibal River at 6:15 p.m. in a Division IV semifinal.
On Wednesday in Div. III, LaBrae (22-3) faces Oberlin at Canton Fieldhouse at 8 p.m.
Thursday, Mooney (14-11) travels to the Canton Civic Center to face Warrensville Heights at 8 p.m.
Youngstown Christian (15-8) advanced with a thrilling 75-73 victory over top-seeded Wellsville in the Struthers district. The Eagles survived an 18-5 run by the Tigers in the fourth quarter to earn the school's second regional appearance in five seasons.
YCS Christian and Mooney have come a long way since their game that featured a halftime score of 10-9.
"Both were struggling teams," said Carroll who agreed that YCS' football success might have been a factor in a slow start. YCS advanced to Week 13 in the postseason before losing to Mogadore.
"It's a tough transition," said Carroll of shifting from football to basketball.
"We always felt we have a special group, but we didn't know how special," Carroll said, "We're not great basketball players, we're not the prettiest on the court, but we have kids who play hard."
Unseeded Mooney advanced with a 61-46 victory over Salem in the Boardman district.
Cardinals coach Brian Danilov said their schedule made them better.
"We played a lot of tough teams from Cleveland and all over," Danilov said. "That helped. Some nights it didn't feel like it was helping when we got our [bottoms] kicked, but it helped in the long run.
"I've got a great group of kids," Danilov said. "I know it's a cliche. I know every coach loves his kids.
"But they've been through a lot of adversity, getting their [bottoms] kicked one night and coming back and working hard in practice the next day."
Cardinals senior Joe Cunningham said the team has improved from a slow start.
"From the first game of the year until now, we are 100 times better," Cunningham said. "We never stopped fighting, despite our record. That [our record] doesn't matter. We're 0-0 now, starting over."
LaBrae received good news on Sunday when Marcell Richardson was given medical clearance to practice.
In Saturday's 68-61 double overtime win over Ursuline, Richardson and Ursuline's Desmond McElroy smacked heads pursuing a loose ball. Richardson made two free throws that forced overtime, then sat out the rest of the game with a possible concussion.
LaBrae coach Chad Kiser said Richardson was examined at the emergency room after the game and released.
"He's going to take it easy [today] and start running again on Tuesday," said Kiser, who expressed relief that neither player was seriously injured. "It was a hustle play, nothing dirty about it. We're glad both players are OK."
The Vikings survived after surrendering an 11-point lead in the third quarter.
"I don't think it was our best offensive game but we played good defense," senior Carl Brown said. "It was a tough, hard game."
Kiser credited Ursuline's Ryan Strollo for keeping his team in the game.
"Second overtime, [Aldridge] drilled a 3-pointer and Strollo comes down and hits one," Kiser said of the duel. "It's hard to call that team a loser. They played one whale of a game. They just kept battling.
"My heart goes out to [Ursuline coach] Keith [Gunther] — as hard as they played, to come away with a loss is just unreal."
Aldridge led the Vikings with 27 points, 12 rebounds and three blocks.
"They were grabbing him, holding him, doubling him trying everything to not give him a look," Kiser said. "Same thing we were doing to Strollo. You could see why those two kids are such good players."
Sportswriter Joe Scalzo contributed to this story.