Woods roars for 2nd victory of year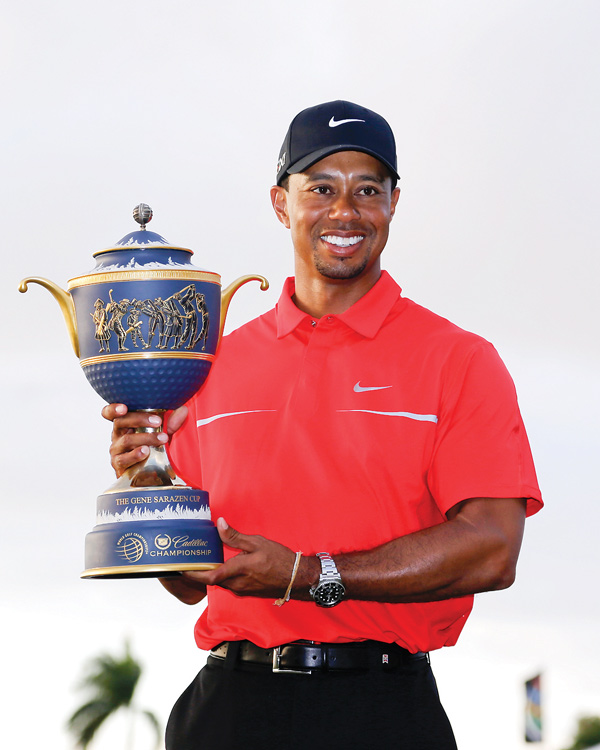 ---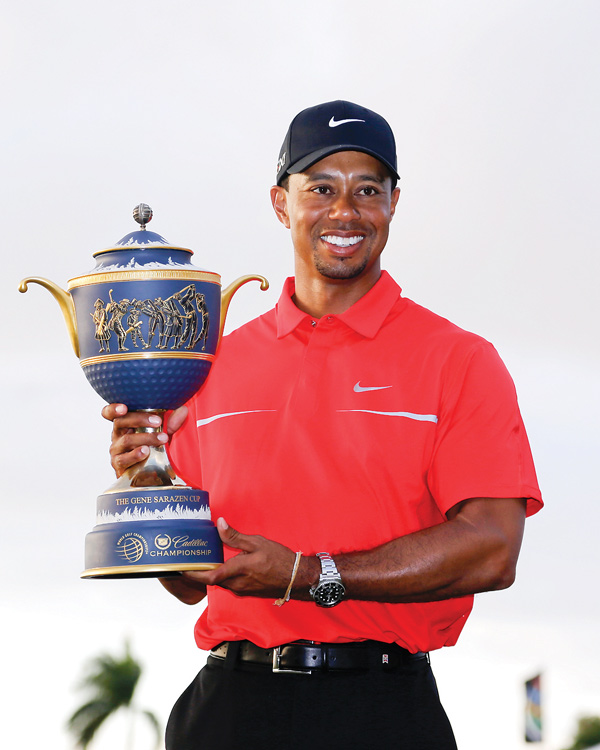 Photo
Tiger Woods holds the Gene Sarazen Cup after winning the PGA Cadillac Championship Sunday in Doral, Fla.
Associated Press
DORAL, Fla.
Tiger Woods is hitting his stride on a march to the Masters.
Woods had full control of his game Sunday and never let anyone get closer than three shots until he had locked up his 17th World Golf Championship title. With a conservative bogey that didn't matter on the final hole, he closed with a 1-under 71 to win the Cadillac Championship.
For the first time in five years, Woods has two wins before the Masters.
It was one year ago at Doral that Woods withdrew after 11 holes in the final round because of tightness in his left Achilles tendon, creating uncertainty about his health and whether he could ever get his game back.
False alarm.
Woods has won five times in the last year, the most of anyone in the world, and he can return to No. 1 with a win at Bay Hill in two weeks.
He won by two shots over Steve Stricker, who might want to claim a share of this trophy.
Stricker spent 45 minutes on the putting green with Woods on the eve of the tournament, helping him with his posture over putts. Woods made 27 birdies this week, one short of his personal best on the PGA Tour.
"Thank you to Steve for the putting lesson," Woods said at the trophy presentation. "It was one of those weeks where I felt pretty good about how I was playing, made a few putts and got it rolling."
Stricker, playing a part-time schedule, picked up his second runner-up finish in just three starts. He closed with a 68, and had no regrets about offering Woods some help.
"At times you kick yourself," Stricker said with a laugh. "He's a good friend. We talk a lot about putting. It's good to see him playing well."
The Masters is a month away, and Woods is sure to be the favorite.
Rory McIlroy, the No. 1 player in the world, showed signs of recovering from his rough start to the season. He had a 65 and tied for eighth.
Woods won in January at Torrey Pines by four shots. He won for the fourth time at Doral, making this the seventh golf course where he has won at least four times.
"Majors and World Golf Championships are the best because you know you are playing against the best players," Woods said. "That's what makes wins like this special. That's why I love to compete."
Graeme McDowell, who started the final round four shots behind, made a birdie on the opening hole, but never got any closer. McDowell had third place to himself until he went for the green on the 18th hole and found the water. He made double bogey, shot 72 and fell into a four-way tie for third that cost him $172,500.
Phil Mickelson (71), Sergio Garcia (69) and Adam Scott (64) also tied for third.
Woods improved to 41-2 on the PGA Tour when he had the outright lead going into the final round, the last two wins with McDowell at his side. Woods last won while ahead at Bay Hill a year ago.
"The way Tiger was playing, I was always in chase mode," McDowell said. "He was always going to be a tough guy to catch. Fair play to him. He played fantastic golf the last couple of days."
Woods finished minus 19 at 269 and earned $1.5 million in winning this World Golf Championship for the seventh time.
McIlroy's week ended on a happy note.
Not only did he finish the tournament, he might have turned the corner with a bogey-free 65. McIlroy opened with a 7-iron into 18 feet for eagle, which he called one of the best shots he hit. He shot a 32 on the back nine for a round that surprised him considering how far away he felt when he arrived at Doral.
"Just goes to show, it's not as far away as you think," McIlroy said. "That's been one of my problems. I always think when I'm playing bad that it's further away than it is. That's just where I have to stay patient ... and know that if I put in the hard work, that the results will bear fruit. Whether that's sooner or later, it doesn't really matter."
More like this from vindy.com