Model trains interest many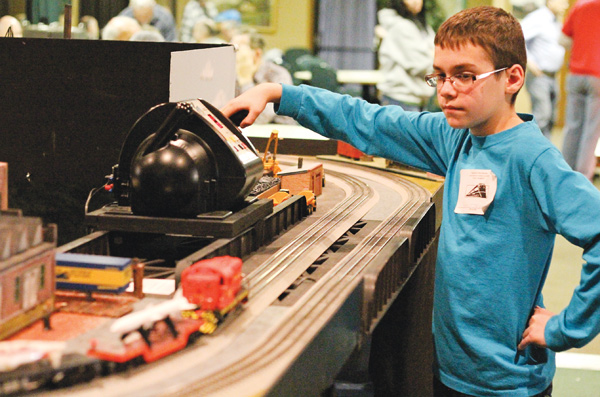 ---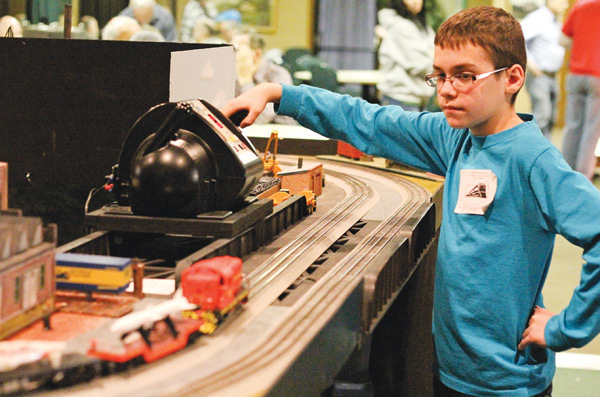 Photo
Brett Seybert, 10, of Fowler controls a model train on display during the Youngstown Model Railroad Association flea market at McMenamy's in Niles on Sunday. The youngster operated two model trains around a display built by the Western Reserve Model Railroad Club that depicts parts of Youngstown from days gone by.
By Jordan Cohen
NILES
Craig Ziobert, a 22-year-old Youngstown State University senior, admits his interest in model railroading did not begin the way it does for most young people.
He became attracted to the hobby as a child and eventually persuaded his father to become an enthusiast.
"Usually, it's the other way around," said Ziobert, who was among the vendors at the Youngstown Model Railroad Association flea market Sunday at McMenamy's Banquet Center. "I forced Dad to become a member," he
said as his father, Randy, a member of the YSU information-technology staff, agreed. The two were selling model railroad pieces and scenery to accompany them.
The younger Ziobert is what the association hopes to attract to a hobby that generally attracts a much older group because of its association with America's past. That makes it tough when competing against the likes of video games and iPads.
"Kids got Lionel Trains for Christmas 30 years ago and stayed with the hobby, but now, there are so many distractions kids have today," said Jim Pope, association president. "There is still interest, and people do come back."
Pope said attendance averages nearly 700 people who search for bargains among the thousands of antique and more-recent models and gauges of engines, boxcars and other equipment. Nearly 80 vendors set up displays on more than 180 tables. Costs ranged from several dollars to several hundred.
"We notice senior citizens bringing their grandchildren with them and getting them interested," said Sherry Bosworth of Mentor who, with her husband, was selling approximately 400 pieces of equipment valued, she said, in the thousands of dollars. "Interest starts with the grandkids, and I think it's terrific."
One of those grandchildren is Brett Seybert, a 10-year-old from Fowler who may have been the envy of other children attending the flea market. The boy operated two model trains around a large display built by the Western Reserve Model Railroad Club depicting parts of Youngstown from days gone by, including the Sheet & Tube Mill and long-departed West Federal Street businesses.
His grandfather, John Farcas, 71, of Austintown smiled as Brett flawlessly controlled the speed of the trains moving in opposite directions on two tracks.
"It doesn't matter to me," said Brett when asked about other children's interest in the digital world of high-tech instead of model railroading. "I really like running these trains."
Brett may not be the exception. A recent model-railroading open house attracted 3,000 adults. "Most of them had young kids with them," Farcas said.