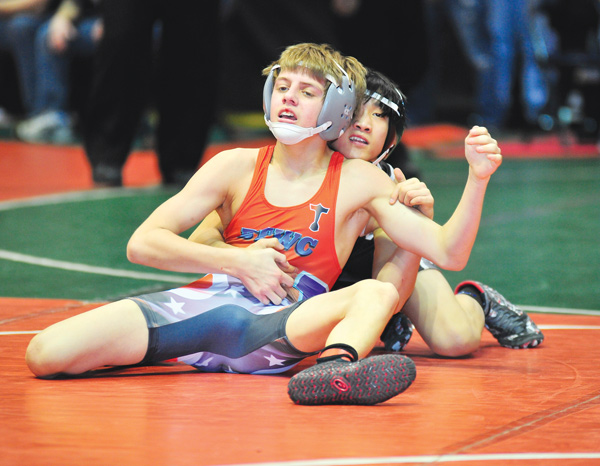 ---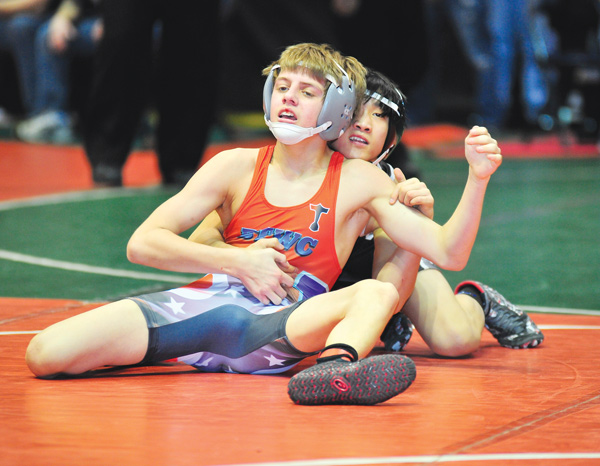 Photo
Matthew Cardello of Poland, representing the North Akron Wrestling Club, works on controlling the Burnett Trained Wrestling Club's Hunter Kosco during their semifinal match Sunday in the 96-pound weight division of the 15th annual Ohio Junior High State Wrestling Tournament at the Covelli Centre. Cardello defeated Kosco in a 6-4 decision, but fell 3-2 in the championship bout to Tanner Smith for his only defeat of the weekend and to finish as runner-up.
Poland's Cardello finishes runner-up
Youngstown
Two spectators at the 15th annual Ohio Junior High State Wrestling Tournament on Sunday took some time away from the action and looked at the brackets hanging in the Covelli Centre concourse.
"I'm most excited about the 96-pound action," said a fan from Ashland. "Hunter Kosco is good and Matthew Cardello is an animal."
In that championship semifinal bout, Poland's Cardello handled Kosco in a 6-4 decision thanks to a two-point hip toss in the final three seconds.
"When he got that last takedown, I knew I had to do something," Cardello said. "I hit one move and hit again to finish it. I couldn't wait too long."
His dad and coach, also named Matt said, "That was incredible. Both of those kids pushed and both deserved it. Matthew, thank God, he never quits. He has more heart than anyone I've ever met. He's worked hard for this all year and he's a heck of a kid.
"I'm lucky."
The eldest Matt and his wife, Beth, adopted Matthew and his sister, Eve, from Korea when they were toddlers. Originally from Pittsburgh, the family relocated to Poland five years ago.
"It's been the best move for us," Matt said. "It's a great area and an awesome community. We couldn't be happier."
Matthew, a seventh grader at Holy Family, didn't start wrestling until he won 9 and won a middle school state title a year ago. He fell, 3-2, in the championship bout to Tanner Smith for his only defeat of the weekend.
Unlike a majority of the other competitors in the weekend tournament, Matthew didn't cry, stomp his feet or storm off the mat after the loss. He put his hands on his hips, let out a sigh and shook the hands of Smith's coaches genuinely.
"He's a respectful kid," Matt said. "Off that mat, he's a real quiet kid. You wouldn't know how tough he really is until you see him on the mat. Then, he's all business."
Matt wrestled in high school, "but was terrible," he admitted. "It's good to see him not take after his father," he added with a laugh.
Eve, 11, doesn't wrestle like the boys, "but she rules the world," Matt said.
The Cardello family travels to Columbus some weekends to take part in a club team. In Northeast Ohio, they're part of the North Akron Wrestling Club.
"Every practice I push myself to see my limits," the younger Matthew said. "At the end of the day, I just can't wait to see my hand raised [after a match]."
Canfield's Georgio Poullas ended the weekend with a 2-0 decision over Brunswick's Ethan Rivera for third place in the 114-pound division.
Poullas outscored opponents, 48-1, for the tournament.
"In practice, I worked really hard to defend my opponents and attack with my shots," he said.
David Crawford, also of Canfield, finished the tournament with a 5-2 record.
"It's really exciting to see what the boys could do against the best competition," said Dave Crawford, head of the Canfield Wrestling Club.
His two other sons, Nick and Mikey, will be at the Covelli, next weekend, for the middle school state championships.
Another local competitor, West Branch's Matthew Steer, earned fourth place in the 126-pound division. Undefeated going into the championship semifinals, he battled a nosebleed but kept an early advantage. Tied 7-7 in the waning seconds of the third round, Derek Gross, completed a 3-point near-fall for the 10-7 decision.
Steer, an eighth grader, recovered to beat Trey Genier on a 2-0 decision before falling to Noah Martin, 5-3, on another last-second move.