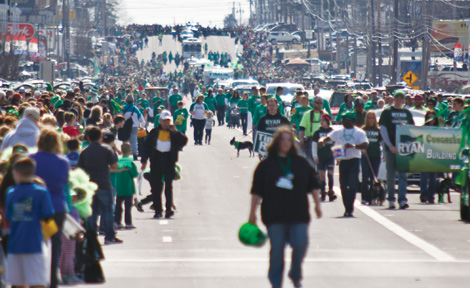 ---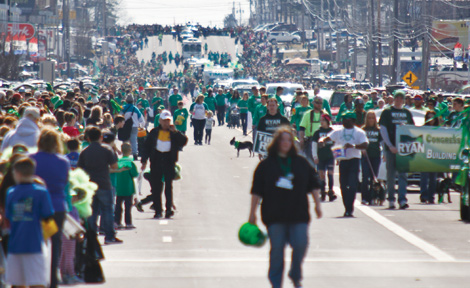 Photo
Sunday's springlike weather drew thousands to the 35th annual Mahoning Valley St. Patrick's Day Parade along Market Street in Boardman. Joyce Kale-Pesta, parade committee president, said Sunday's event was the largest to date.
St. Patrick's Day Parade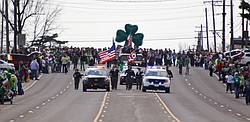 Gallery
By Sean Barron
BOARDMAN
Green can describe anything from being highly envious to having a lot of money, but in the case of brothers Hunter and Gavin Jones, it has more to do with their hair.
"My mom used a green dye on me," Hunter, 11, said with a chuckle. "I actually like it being green on St. Patrick's Day."
Given the setting, the brothers' hair color blended right in. That's because Hunter and his 7-year-old brother, Gavin, both of Akron, were among those who dressed for and attended Sunday's Mahoning Valley St. Patrick's Day Parade 2013, themed "Shamrocks of Steel" in part to honor the area's long history of steelmaking.
Sponsoring the event, in its 35th year, were The Vindicator; 21 WFMJ-TV; WBCB-TV, the Valley's CW; and Clear Channel Radio.
This year's grand marshal was James E. Rooney, president of AMTV LLC, a professional-services firm that provides market-based research in support of new technologies and products.
The one-mile parade began around 1 p.m. at the township administration building on Market Street just north of McClurg Road and proceeded on Market to the Southwoods Medical Complex on DeBartolo Drive.
Hunter and Gavin missed the St. Patrick's Day parade in Akron on Saturday because they were busy winning awards for having built wooden race cars for a derby as part of their Cub Scout project. Attending Sunday's event, however, more than made up for it, explained Hunter, who came with his parents, Mike and Tracy Jones, formerly of Girard.
"We absolutely love it," said Tracy, whose hair was tinged with green streaks. "We get into St. Patrick's Day in our family."
Around 195 entries made up the parade, during which an estimated 50,000 people lined both sides of Market Street to watch, noted Joyce Kale-Pesta, parade committee president. Another highlight was the weather, which consisted of clear skies and temperatures in the mid-60s.
Many attendees wore green necklaces, some with shamrock designs, green stocking caps and hats, and the usual shamrock-laced T-shirts. In addition, one man donned a pair of sunglasses shaped like shamrocks, a girl had on a headband with green pinwheels attached and a family had a baby stroller, the top of which was filled with green and white feathers.
Participants included numerous area fire departments, ambulance services and towing companies, along with local elected officials. Also part of the festivities were the Boardman High School Key Club, the Mahoning County Board of Developmental Disabilities, the Mahoning County Green Team and the Purple Cat, a 10-year-old day program for adults with physical and mental challenges.
Besides creating a sea of green, the parade's additional color came from the floats, bands, bagpipe and drum corps, clowns, Irish dancers and vintage antique cars, not to mention the vendors selling items such as teddy bears, necklaces, horns, gloves and towels — all green, of course.
The celebratory feeling continued during an after-parade party at the International Union Operators Engineers Local 66 Hall, 291 McClurg Road.
People were treated to Irish entertainment from bands including the Schaffer Bros., County Mayo, Ed "Eamonn" Knuff and the Dead Maggies, as well as a disc jockey. Also performing were Irish step dancers from Theresa Burke's School of Dance.
"It was wonderful. Everybody's been so kind to me," said Rooney, a three-year U.S. ambassador to Ireland who's also the son of Pittsburgh Steelers chairman Dan Rooney. "It was like a Fourth of July party on St. Patrick's Day."
Rooney, who lives near Wexford, Pa., recalled having been asked last October to be the parade's grand marshal when he and NFL Hall of Fame players Franco Harris and Jim Brown were in the area campaigning for President Barack Obama.
Kale-Pesta said she was thrilled with the turnout and participation, noting that this is the largest parade to date. What was so special about this year?
"The weather," she said without hesitation. "The crowd was unbelievable. There was something for everybody from beginning to end."