Davisons honored for 60 years at Davidson's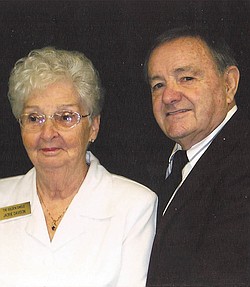 Photo
Mr. and Mrs. Richard Davison
COLUMBIANA
Mr. and Mrs. Richard Davison of Columbiana celebrated their 60th wedding anniversary March 9 at a dinner at Davidson's Restaurant in Cornersburg.
It was hosted by their daughters and their spouses, Cindy and George Goist of Wichita, Kan., and Terrie and Harvey Setinsek of Poland.
Five grandchildren, 12 great-grandchildren and a great-great-grandchild complete the family.
The former Jacquelyn Beard and Mr. Davison were married March 7, 1953, at Delason Avenue Methodist Church in Youngstown.
Mrs. Davison is a homemaker.
Mr. Davison retired in 1993 from Diamond Steel, where he was a truck driver, and belonged to Teamsters Local 377. He is a member of Masonic Lodge 276 in Columbiana and Ancient Scottish Rite Valley of Youngstown. He is a U.S. Navy veteran and served from 1948 to 1952.