Joyce Pogany is dedicated to doing good things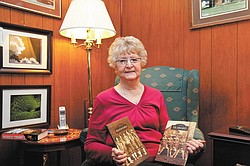 Photo
Madelyn P. Hastings | The Vindicator One of Joyce Pogany's many civic contributions to Austintown was her involvement to help preserve the Austin Log Cabin while serving as president of the Austintown Historical Society. A picture of the cabin hangs on the wall behind Pogany and appears in the book she is holding, which she wrote and titled "Austintown."
By Sean Barron
AUSTINTOWN
If it's related to or going on in Austintown, you can rest assured that Joyce Pogany has a hand in it – or at least is aware of it.
"I got fired after 20 years because that's how long they allow you to be on the board," Pogany said with laughter, referring to time she spent representing Mahoning County on the draft board, where she and fellow members met annually to review qualifications regarding those being drafted into the military.
That was one of numerous ways the 78-year-old Pogany has contributed to the township's civic life.
Pogany, an Austintown native and a retired X-ray technician, spoke recently from her South Raccoon road home about her service to the community, which includes many educational endeavors.
To that end, she served 28 years on the Austintown Board of Education, four each as president and vice president. She also is a seven-time president of various local parent-teacher associations, the first of which she joined when her oldest son was in elementary school and she was his Cub Scout leader.
Pogany also was a charter member and 15-year secretary for the Austintown Fourth of July committee and, in 2007, was selected as grand marshal of the annual Fourth of July parade.
In addition, she served in the same capacity for the Salvation Army of Austintown and the township's Growth Foundation, which meets monthly to award scholarships to eligible Austintown Fitch High School students and is dedicated to improving the area's quality of life.
Her community service has earned Pogany a Growth Foundation Award, as well as the prestigious Athena and Valley Legacy awards.
Her efforts don't stop there, however. Since 1976, Pogany has been a charter member of the Austintown Historical Society, including 25 years as president; five years ago, she published a book on the township's history.
Her interest in local history is in keeping with Pogany's conducting tours of the Austintown Log Cabin and the Strock Stone House off Mahoning Avenue. She helped raise $50,000 to restore the log cabin, a three-year undertaking that started in 1973.
"We clean it, we decorate it and we have fundraisers there," Pogany said of the Strock House, noting it was built in 1830 and may have been part of the Underground Railroad.
Pogany's longevity stretches to the Austintown Kiwanis Club, the Youngstown State University Penguin Club and the Wickliffe Circle Christmas Committee, which account for a total of 75 years of service.
Don't think for a minute that this mother of five, grandmother of eight and great-grandmother of three has the time or desire to be idle.
Pogany, who's also a longtime Cleveland Browns fan, is a part-time receptionist for a local attorney. And she remains active with the Historical Society and in Kiwanis.
Pogany's also a fixture during the holidays because her efforts usually bring 500 to 600 people to the township's Christmas tree-lighting ceremony, at which Santa Claus arrives on a fire truck and several choral groups sing carols. Pogany expressed gratitude toward local firefighters who assist with the event, which is in its 26th year.
With her list of accomplishments showing every sign of growing, what are the achievements for which she takes the greatest pride?
"I'm proudest of my 28 years on the board of education trying to ensure our children get the very best education," Pogany said, pointing to having been part of plans to build the new Austintown Middle School.
"I have been very, very blessed to be as involved as I've been."