Alzheimer's Association plans gala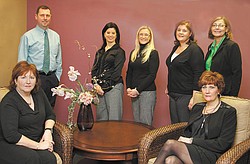 Photo
ROBERT K. YOSAY | THE VINDICATOR The Alzheimer's Association is presenting the 9th annual Forget-Me-Not Gala April 13. Some of the committee members planning the event are, seated from left, Janie Skusa and Mickey Meelich; and standing are David Keast, Deanna Spirko, Katie Rusu, Jean Daliman and Anna Keck.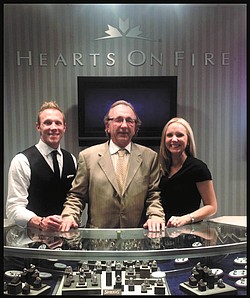 Photo
SPECIAL TO THE VINDICATOR The Komara family will be recognized for their efforts in supporting the Alzheimer's Association at the Forget-Me-Not Gala April 13 at Tippecanoe Country Club in Canfield. Pictured are Bob Komara, center, who heads Komara Jewelers, and his children, Bob Komara and Briana Komara Pridon, who are managers at local Komara stores.
CANFIELD
The ninth annual Forget-Me-Not Gala will be presented by the Alzheimer's Association, Greater East Ohio Chapter, on April 13 at Tippecanoe Country Club, 5870 Tippecanoe Road.
Doors will open at 6 p.m., and the sit-down dinner will be at 7. Tickets are $75, and patron tickets are $125.
The Komara family, three-generation Youngstown area jewelers, will be recognized for their efforts supporting the mission of the association over the past several years. The family business is headed by Bob Komara, who followed his father, Stephen. Briana Pridon and Rob Komara, two of his children, are managers at Komara Jewelers stores in Cornersburg and Howland.
The bold spirit of the 1920s with its lively music and art deco style will capture the theme of the evening, "Gatsby Glitz." As guests arrive, vintage cars will create a Gatsby-like atmosphere. In addition to original menu selections from New York's Waldorf Astoria from the Roaring '20s, live and silent auctions will be offered. Chris Roman of Roman Auctioneers in Canfield will be the auctioneer, and master of ceremonies will be Dan Rivers, mid-day talk host on 570 WKBN.
Shorty Navarro's Stadium GM Superstore in Salem is the presenting sponsor for the gala. Gold sponsors are Aim Nationalease, Comprehensive Logistics, Crossroads Hospice Charitable Foundation, Fleminglease and Windsor House Inc. Silver sponsors are Clare Bridge of Austintown, Comfort Keepers, Home Instead Senior Care, Humility of Mary Health Partners Development Foundation, Ivy Woods Manor, Pembrooke Place Skilled Nursing and Rehab Center and Stifel Nicolaus-Butler Wick Division.
Komara Jewelers will provide glamour and glitz for the gala with its donation of a Mikimoto pearl necklace, valued at more than $3,200. Guests can purchase tickets to win the necklace.
The Rick Barber Trio of Canfield will provide musical entertainment, and Dustin Jones and Leesha Thompson, Fred Astaire dancers, will demonstrate dances of the past era. Vintage cars from the 1920s, provided through Mahoning Valley Old Car Association, will be on display for photos.
Gala committee members are Deborah Audino, Jean Daliman, Marilyn Herron, Jacki Jones, David Keast, Anna Keck, Connie Knecht, Mickey Meelich, Christina Pallo, Pam Rogers, Linda Romeo, Patricia Rose, Katie Rusu, Janie Skusa, Deanna Spirko, Florence Wang and Nicole Zarzycki.
Proceeds will support the local programs and services in Mahoning, Trumbull and Columbiana counties for those living with Alzheimer's and their families and caregivers.
For tickets, sponsorships or donation items for the silent auction, contact Helen Paes at the Alzheimer's Association office at 330-533-3300 or hpaes@alz.org.