Howland's Dick Angle hangs up coaching whistle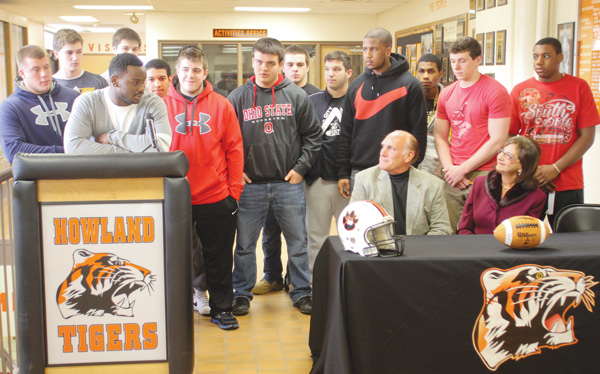 ---
By Brandon Judeh
HOWLAND
Thirty-six years of coaching, 262 wins and the Sunshine State were enough to persuade Howland head football coach Dick Angle to step down.
Coach Angle Retires

Video
Longtime Valley Football coach Dick Angle announced his retirement today.
Angle officially made his announcement Thursday morning outside of the Howland gymnasium.
In his 15 seasons at Howland, Angle made the Tigers' football program into a Northeast Ohio powerhouse. During his tenure, the Tigers won eight conference championships, made nine playoff appearances and sent more than 200 athletes on to the next level of football. Ninety-seven percent of them earned a college degree.
The 40-minute press conference was full of emotion as players and staff shared memories of Angle.
"Coach Angle is a father figure to all of us players, both present and past, we just want to thank you for everything and tell you that we love you," Michigan recruit De'Veon Smith said.
As Angle stepped up to the microphone, he first thanked his wife, Bernadette.
"My wife has been so supportive and she is such a strong woman, I am so blessed to have her," Angle said. "I also would like to thank my son and also my sisters who have come to every Howland game."
Angle fondly reminisced about his time at Howland, including his first season in 1998 when he inherited a team with 26 players and no freshman or eighth-grade teams.
"Coaches are hired to win, I like the pressure," Angle said. "I came in with a plan and I always taught our players to have a plan."
Angle called the victory over Canfield in Week 10 of his first season perhaps the biggest win in school history. The Tigers were 1-8.
"We beat a good Canfield team that year and I really think that changed the program," Angle said. "As soon as we won, the kids were ready to go back out and start working toward the next season."
Angle's career record is 262-161-3 and also included stints at Lakeview (Pennsylvania) and Ursuline where he is the school's leader in wins.
In all, Angle won 12 conference championships and made two state semifinal appearances.
Though building a tradition was always important to Angle, he said that "working with kids was always been my passion."
Angle has recommended Dominic Menendez replace him.
The Angles plan to move to Orlando to spend time with their grandchildren, but Angle left the door open for a return to coaching.
"I plan on coaching my grandson and granddaughter a bit and I'm going to look around and see what opportunities there are in Florida," Angle said. "I'm still open to coaching a football program if it's the right fit.
"Many Ohio coaches have gone down to Florida and have had a lot of success."