Poullas takes seventh at state wrestling tourney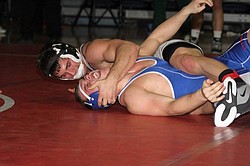 Photo
Canfield's John Poullas controls his opponent during a match at last weekend's Division II state wrestling tournament in Columbus. Poullas finished seventh in the state.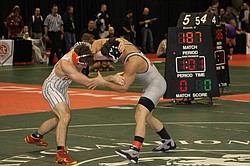 Photo
Canfield's John Poullas (right) wrestles during last weekend's Division II state tournament. He defeated Eaton's Tyler Claybaker 10-3.
Canfield senior wrestler John Poullas capped a record-setting season with a seventh-place finish at the Division II state wrestling tournament last weekend in Columbus.
After falling in his first match last Thursday night, Poullas rebounded by winning three of his next four matches to gain a spot on the podium. His final tally of 47 victories eclipsed the Cardinals' previous single-season mark of 43 set by Alex Benedict in 2011. Poullas will now reach his long-time goal of being featured on the wall of Canfield's wrestling room, joining a long line of state placers.
After falling to Claymont's Matt Dennis in the first round, Poullas dropped into the consolation bracket and needed wins in his next two matches to reach the placement round. Poullas handled Eaton's Tyler Claybaker 10-3 and faced a bout with Poland's Mike Audi for the fourth consecutive tournament. Poullas made it a perfect 5-0 on the season versus the Poland junior with an 8-3 victory.
Poullas fell to defending state champion Chris Moore (Clyde) in the consolation quarterfinals, sending him into the match for seventh place against CVCA's Tyler McClellan. Poullas went out in style, pinning McClellan at the 2:28 mark to capture seventh. Poullas finished the season 47-7.