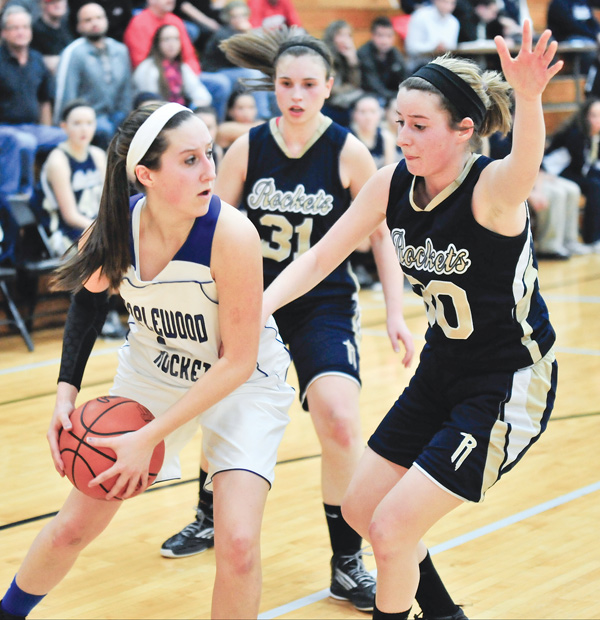 ---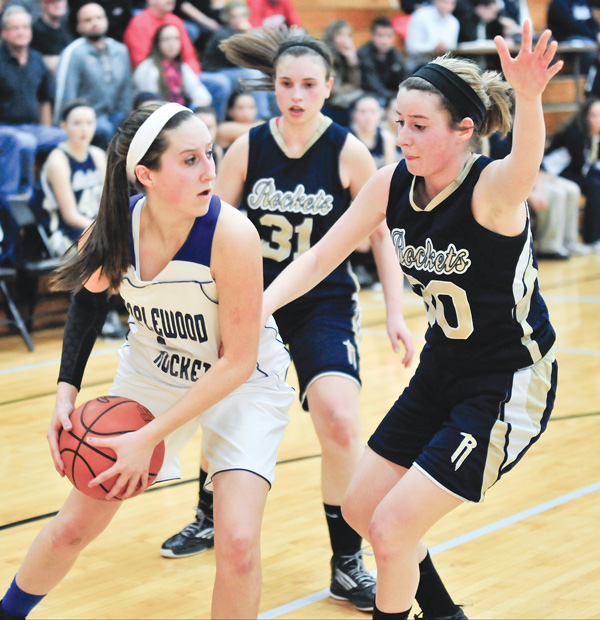 Photo
Maplewood's Allison Bell (10) looks to pass after grabbing a rebound away from Lowellville's Maddie Opritza (30) and Rachel Durbin (31). Maplewood won to advance to Saturday's game against Berlin Hiland.
By Joe Scalzo
massillon
On Thursday night, the Lowellville High girls basketball team got zoned out.
In a defensive-minded Division IV regional semifinal at Perry High, Maplewood played a matchup zone for most of the game, practically daring Lowellville to make open 3-pointers.
Lowellville couldn't, falling 45-36 while leaving head coach Tony Matisi shaking his head afterward.
"Very disappointed. Very," said Matisi, who was coaching in his fifth straight regional semifinal. "I guess you could say we played well defensively but, man oh man ..."
He paused for a good 10 seconds, then said, "It's just disappointing because you didn't play your best. I think that's the thing that hurts me, hurts everybody. If we would have played our best and got beat, I'm fine with that."
Maplewood (22-5) didn't play its best either, going 1 for 7 in the first quarter with seven turnovers, but its defense — and post players Brooke Dawson and Ryley Urchek — gave Lowellville's smaller lineup fits.
Dawson scored 13 points and grabbed 13 rebounds for Maplewood, which will meet Berlin Hiland in Saturday's regional final.
"Our goal was just to make it to this game," said Dawson, whose team won the first district title in school history last weekend. "To be winning and keep going is beyond words.
"I'm speechless, to be honest."
Urchek added nine points and 12 rebounds and Miranda Sloan added nine points, including a 4 for 4 performance at the line in the final 45 seconds to close out the game.
"We weren't very comfortable at the beginning," Maplewood coach Mark Yoder said. "By the second quarter, we were a little more comfortable.
"We realized this gym is no different than any other gym we played in. The hoops aren't any higher and the ball will go in if you step up and shoot it with some pop. That's what we started doing. We started making shots."
Well, for awhile. After taking a 34-27 lead with 2:46 left in the third quarter, Maplewood went scoreless for nearly five minutes, allowing Lowellville to cut its deficit to one.
But Lowellville shot 1 of 15 in the fourth and finished 10 of 43 for the game as Maplewood pulled away.
"I don't think we put anything back-to-back all night," said Matisi, whose team beat Maplewood 59-50 on Feb. 11. "I can't remember two buckets in a row all night long."
He was almost right. Lowellville (23-4) made back-to-back 3-pointers early in the second quarter but that was it.
Madison Opritza scored 10 points and Kaye Solak added nine points with five rebounds and four assists for Lowellville, which has lost all five regional semifinals since 2009.
"We were ready for that matchup zone," Matisi said. "We tried everything against it. I think I called every set we ever had."
Maplewood will probably need to do the same to beat Hiland (24-3), which was ranked second in the state after the regular season and was last year's state runner-up. Hiland has won four state titles and finished second three more times since 2000.
"We've got one day to get ready for one of the best teams in the state," Yoder said. "One day to prepare ... is not nearly long enough. It's going to be quite a task.
"We're gonna come in here Saturday and give it our best shot."