Mancini takes third at state wrestling tourney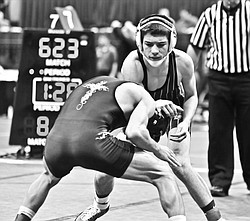 Photo
Boardman's Nick Mancini swats the head of Anthony Milano (Cincinnati LaSalle) during a Division I 113-pound state tournament match last week in Columbus.
By Eric Mauk
After an excruciating 2-1 loss to eventual 113-pound Division I state champion Aaron Assad last Friday night, Boardman's Nick Mancini went back to work last Saturday morning as the final places were determined for the state wrestling tournament.
The senior, who will wrestle at Cleveland State, topped Mount Vernon's Dakota Riley 6-3 in his first match of the day and then bombed Delaware's Greg Brusco 11-0 to take the third spot for the Spartans.
"[Saturday] went really well. I hit all the moves I wanted to hit, I was very comfortable and felt like I was in control the whole day. I knew if I got in my groove, I could beat anybody," Mancini said. "I wouldn't say I was satisfied with how the tournament went for me because obviously my goal was to win, but I accepted it after [Friday] and came back strong. I wasn't going to lose by one point and then come out here and finish sixth."
His Saturday success didn't erase the bitter disappointment of Friday's defeat, but upon reflection Mancini realized that his Friday effort was nothing to be ashamed of.
"Assad was highly regarded, was ranked 10th in the country, a fourth-time state placer and is going to Purdue," told Mancini. "But I came out and gave him everything he wanted in a very close match so I have to be happy about that."