Published: Fri, March 8, 2013 @ 9:09 a.m.
Video Set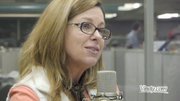 Patty March of the Friends of the Mahoning River joins Louie Free to talk about waterway restoration.
Patty with Friends of the Mahoning River was our guest Thursday on Vindy Radio. If you missed the discussion about waterway restoration, check it out here: http://www.vindy.com/videos/sets/2013/mar/07/louie-b-free-friends-mahoning-river/
Also:
Friends of the Mahoning River has scheduled a Mahoning River Clean-up around the dock at the river's edge at the B&O Station on Mahoning Ave. at noon Saturday, March 9. Anyone who wants to participate is welcome to attend. Park near the Boxcar.
Those who wish to send a letter of support to Friends of the Mahoning River for the dam removal project may email DEFAMAIL@epa.ohio.gov with the subject line WRRSP-Lowellville Dam Removal.
For other concerns, email Mahoningriverfriends@gmail.com.
To send by snail mail, address your letter to:
Ohio EPA – DEFA
P.O. Box 1049
Columbus, OH 43216-1049
Don't forget, Vindy Talk Radio is now iPhone and iPad friendly! To listen, go to http://www.vindy.com/mobile/vindy-radio/