Career center culinary named to Hospitality 100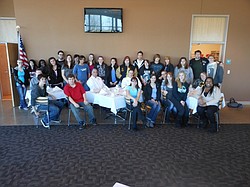 Photo
Neighbors | Submitted .The MCCTC Culinary Arts program is joined by Jim MacLeod, chef presenter and high school representative from Sullivan University.
The Mahoning County Career and Technical Center has been named one of the Hospitality 100 secondary school culinary programs in the United States for the 2012-2013 school year.
The Culinary Arts program at MCCTC is led by instructor chef Matt Putzier.
Each year, the Hospitality 100 list recognizes those secondary schools that have demonstrated a commitment to excellence in culinary arts education.
A team from the acclaimed National Center for Hospitality Studies at Sullivan University oversees the selection process for the Hospitality 100 list. Sullivan University is home to the renowned National Center for Hospitality Studies, one of the leading culinary arts, professional catering, baking and pastry arts, hotel/restaurant management, and hospitality management programs in the country. Sullivan University has campuses in both Louisville and Lexington, Ky.
For additional information, contact Brian Willett of Sullivan University at 800-844-1354 or Jacqueline Kuffel, MCCTC career development supervisor, at 330-729-4120.