Canfield High School closed after threat, police find no bomb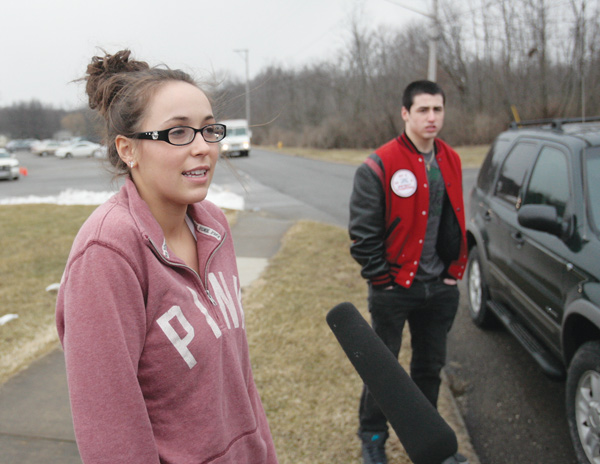 ---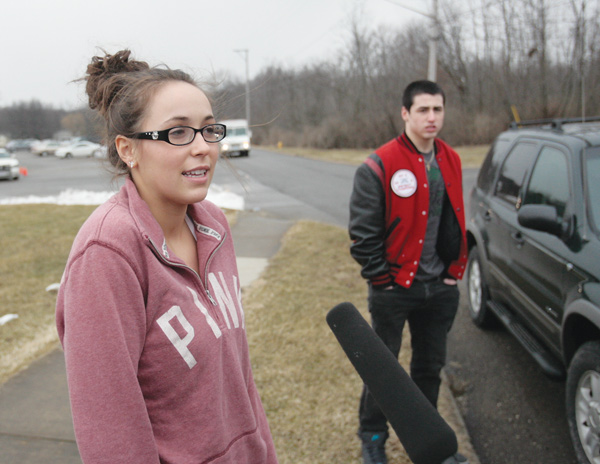 Photo
Candice Smith, a sophomore at Canfield High School, and Tom Colucci, a senior, talk about the school evacuation because of a bomb threat. A handwritten note was found Thursday morning, prompting the district and Canfield police to close the school and search for a bomb.
SEE ALSO: Police find gun in car of MCCTC student
By Susan Tebben
CANFIELD
Canfield High School students had an unexpected free day Thursday after one of their own reported a bomb threat.
The student found the note that raised concerns, though police would not release details as the investigation continues.
Following safety protocol, the school was evacuated about 10:35 a.m., and police swept the building looking for any evidence of explosives.
"Not knowing if it was a credible threat, we went through the safety plans put in place by the district, and [evacuation] went really well," said Scott Weamer, Canfield Police Department assistant chief.
Schools Superintendent Alex Geordan said the process of evacuating students and faculty took about 15 minutes, with extra buses called in for students without rides from the school. An automated call system was used to alert parents to the threat.
The high school was the only building closed, but it and the outside buildings, including the stadium, were all searched by police and by 4 p.m. had been cleared of any danger, according to Weamer.
All extracurricular events and team practices scheduled for Thursday were canceled, but Geordan said school would be in session as usual today.
The police are pursuing "several tangible leads," according to the department, and investigators will be acting aggressively to find the culprit, Weamer said.
"About 1,000 people had to be evacuated; there was a risk to the safety of the students and faculty and police personnel. That's just not acceptable," Weamer said.
The school district plans to investigate as well, accepting statements from students and employees who are willing to provide them. The district also is working with police so that the perpetrator receives the "highest punishment under the law," Geordan said.