Canfield boys win state bowling title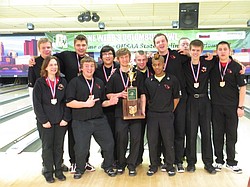 Photo
The Canfield boys bowling team includes, from left, Pete Bryne, Sarah Letscher (assistant coach), Ben Shoman, Paul Harris, Andrew Letscher, Mike Dercoli (team captain), Anthony Bettile, DJ Cospy, Tyler Frklech, Carl Hurd (Coach), Andrew Jarvis and Austin Leonard.
The Canfield boys bowling team got hot at the right time and rode the streak to its first-ever state championship last weekend at the Wayne Webb's Columbus Bowl.
It was the team's first trip to the state tournament where in the qualifying round junior Paul Harris led the Cards with a 643 series, placing him in third place overall in the first team All-Ohio status.
Then came senior team captain Mike Dercoli with a 590 set and freshman Andrew Letscher with a 572, followed by sophomore Ben Shoman with a 540 series.
After the qualifying round, the Cardinals were the fourth seed in the championship round. After beating Maysville 3-0 in the first match of the championship round, they faced the top seed, Fairport Harding in the semifinals and defeated them 3–2 in an exciting match.
Canfield jumped out to a 2–0 lead only to let Fairport back in the match by dropping the next two games. However, the Cardinals closed out Fairport Harding impressively 257–176 in the fifth and final game to set up the state championship match with Kettering Fairmont.
The Cards started the final match with a 206 opening score, but faltered in the second game with a 143 to even the match at 1-1. Canfield had to deal with a very loud crowd from the Kettering Fairmont side, who tried to rattle the Canfield bowlers.
"That's where the mental game comes into play, I think," said Canfield coach Hurd. "I think we blocked it out very well."
The Cardinals went on to win a close Game Three, 190-180 and went on to the fourth game with renewed confidence. In that fourth game, senior Anthony Bettile picked up a key spare in the eighth frame and Ben Shoman rolled a strike in the ninth th to set up the 10th frame.
Fairmont left a 4–7–10 split in its 10th frame and Canfield's Andrew Letscher closed out the match with two strikes in the 10th for a 200–167 win and a state title.