Boardman grad breaking records at Westminster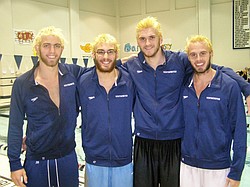 Photo
Neighbors | Submitted .Westminster swimmers (pictured left to right) Jake Pletz, Matt Baurle, Steven Brooks and Alan Nedley broke the school's pool record in the 200-medley relay.
Boardman resident Steven Brooks, a sophomore swimmer for Westminster College, competed in the Presidents' Athletic Conference Championships at Grove City College Feb. 13-16.
The Westminster men's team won the PAC title and Brooks was named PAC men's swimming MVP. His accomplishments in the meet include four provisional B cut times, three Westminster team records, two PAC meet records and a Grove City Pool record.
On his first day of competition, the 400-medley relay team of Brooks, Matthew Baurle, Alan Nedley and Jake Pletz won with a provisional NCAA, pool, conference and school-record time of 3:23.90. Brooks' 100-yard backstroke time of 50.80, the first leg of the relay, also broke an 11-year-old school record. The 200-yard freestyle relay of Dave Starr, Brooks, Dan Guttman and Jake Pletz took fourth place in the finals with a time of 1:24.81. He also placed fourth in the 50 freestyle with a time of 21.54.
On Day two of competition, the men's 200-yard medley relay team of Brooks, Matt Baurle, Alan Nedley and Dan Guttman placed second with an NCAA provisional and school record time of 1:33.08. Brooks had another record-breaking performance in the 100-yard backstroke. He touched first with an NCAA provisional time of 50.47. This time broke his own school record that he set the day before.
On the third and final day of the swimming competition, the Titan men swept the first three spots in the 200-yard backstroke. Brooks led the way with a PAC meet record, an NCAA provisional, and school-record time of 1:52.43. The final event of the meet was the 400-yard freestyle relay. The Westminster men needed a fifth-place finish or better to clinch the championship. David Starr, Brooks, Jake Pletz and Dan Guttman finished third with a time of 3:09.52, winning the PAC title for the men.