Youngstown company helps students hone 21st century skills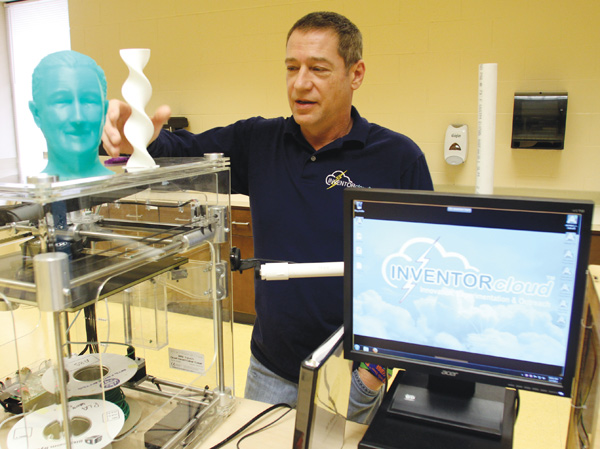 ---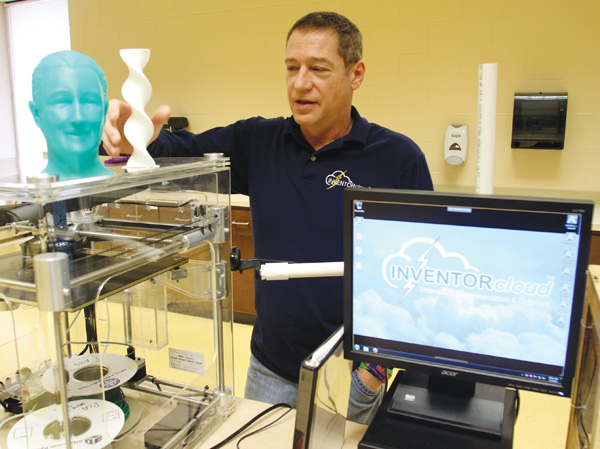 Photo
Mark Baka, Stprm Lab Mgr, shows items students made using 3dprinter and additive manufacturing process.
By Denise Dick
Youngstown
Students in classrooms all over the Mahoning Valley and beyond are brainstorming, designing and creating in a lab at Choffin Career and Technical Center.
About 600 students are using INVENTORcloud. It's a program developed by Applied Systems & Technology Transfer (AST2) of Youngstown.
The students are from Youngstown's Chaney Science, Technology, Engineering and Mathematics School and Austintown, Struthers, Canfield and LaBrae high schools; Youngstown Early College; Bio-Med Science Academy at Northeast Ohio Medical University in Rootstown; E-STEM Reynoldsburg near Columbus; Eastern Gateway Community College and Youngstown State University.
Julie Michael Smith, executive vice president of AST2, said the program was developed to help prepare students with the skills needed in the job market.
"It's very much project-based learning and problem-based learning," she said.
Students work in teams to design and create an object such as a logo or a small, wooden vehicle. They use a computer-aided drawing program to map out the design.
That information is used to create another file that works with a computer-aided manufacturing program. Students determine — based on a prescribed budget and the quality they're looking for — what piece of equipment to use to cut their product.
The lab at Choffin, called STORM:Lab, includes five three-dimensional printers, a mill, a router and a laser cutter with a sheet-metal punch to be added. That equipment carves, cuts or chisels the product based on the information input by the students.
AST2 staff members work at the lab, assisting the young people as needed, and the students can watch their design become a reality on the computer screen while seeing and hearing everything that goes on in the lab.
Jack Scott, founder and president of AST2, said students from their classrooms or homes can do everything they would do in the lab except use the equipment.
Smith said the program has been well received by both students and teachers.
"They love it because they get to design something, to create something and they get to be creative," she said of students.
Teachers like it because they're learning along with students, she said.
Pam Lubich, STEM coordinator at Chaney, agreed.
"Students have been very receptive," she said.
High school engineering students at Chaney take INVENTORcloud's prerequisite course, Innovation, Creative & Design Thinking, and the school plans to offer college credit for the course next year.
"The goals of this course are aligned with the aspirations of our school, which recognizes the importance of STEM education integrated with the imperative 21st century skills that will allow our students to be best prepared for lifelong success and learning," Lubich said.
Scott said the program fosters teamwork, collaboration and creativity. It's an example of education that prepares students for the work force.
The attributes of what's traditionally been regarded as a good student — sitting quietly in class until called upon and doing the required homework — aren't necessarily the attributes of a good employee in today's work force, he said.
"You want employees who express opinions, who have new ideas, who aren't afraid to try new things," Scott said.