AMS performs 'The Jungle Book'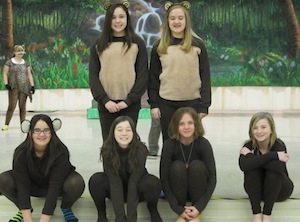 ---
By NATALIE SCOTT
Seventh- and eighth-grade drama students at Austintown Middle School put on performances of "The Jungle Book" in the middle school auditorium the week of Feb. 25. The performance was directed by Mr. Johnson and featured a few differences from the original play, including a part written for Baloo's wife, Buttercup. Although the story keeps the traditional story line of following Mowgli through his journey into becoming a man, the play has a flare that shows the student's abilities.
"It isn't your basic 'Jungle Book,'" said Johnson. "There's a lot of 70's style music and a lot of dancing. Our Mowgli is portrayed by a girl, Molly Delmont, and all of the actors were picked based on both their abilities and their personalities. Another difference is that our play is more like a story teller is narrating Mowgli's journey instead of the story just happening and the audience watching."
The play was built on a lot of student help. All of the students picked out and bought their own costumes and all of the sets were student made, with the exception on the jungle backdrop. Being involved in the play was one way that students could express themselves artistically and on stage.
"The play is a very interesting way to experience things while in school," said Joshua Kitchen, a drama student. "I think that getting involved in this play was one of the best decisions I have ever made. Although this is my first play here, I would definitely do it again."