Hubbard township officers get a shock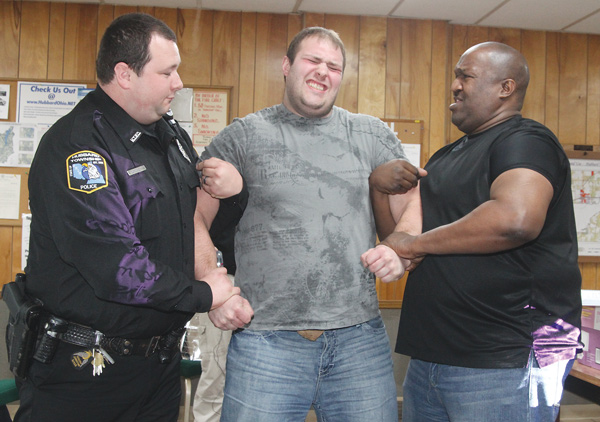 ---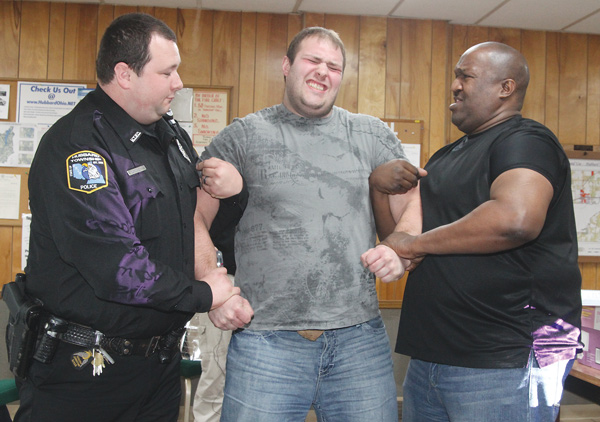 Photo
Hubbard Township Officer Justin Rydarowicz reacts to being shocked with a stun gun as fellow Officer Ken Steepleton, left, and Youngstown Officer Carlo Eggleston assist during police training Thursday night in Hubbard.
By DANNY RESTIVO
HUBBARD
Officer Ken Steepleton is a firm believer in a nonlethal weapon that can incapacitate someone with 50,000 volts of electricity.
"All your focus goes directly to the pain that's shocking your body," said Steepleton. "It's enough to make you a believer."
Steepleton, a 12-year veteran of the township police department, underwent training on the electronic multipurpose incapacitation device, better known as a stun gun, at the township administration building Thursday. Trustees recently authorized officers to carry the nonlethal weapons, but before they could add them to their arsenal, officers had to learn about the weapon.
That meant experiencing its effects.
Officer Mike Rendziniak said he was zapped nearly eight years ago while attending the police academy. He said the pain was like nothing he's felt before.
"You quickly react to the pain and let go of whatever you're doing," said Rendziniak.
He and Steepleton were among 20 township officers who felt the excruciating pain of 50,000 volts flowing through their body.
William Ross, a stun-gun instructor, gave officers a classroom tutorial on the weapon before they were shocked. He said the weapon has different results on people, depending on their size and gender. It tends to be more effective on men because they have larger muscle mass with more nerve receptors, but can have little to no effect on some people, he said.
Statistics show that 5 percent to 8 percent of the population is not affected by the device, he said. History has shown that electricians can fight off the voltage coursing through their body, he noted. He's still a proponent of the weapon, however.
"There are some people that can fight through it, but not many," he said.
Sgt. Gregg Tarr, a 20-year veteran of the department, said officers have never carried stun guns before, but he believes the device will be a great asset for all township officers.
"The biggest thing is that it's another tool we can use to protect people," he said. "You never want to take things like that away."
The stunning device also helps prevent injuries for officers and suspects. Although the pain is excruciating, it's only temporary and no one has to go to the hospital, Ross said, adding, "As police officers, the whole goal is to de-escalate a dangerous situation with as little force as possible."