Dave Betras visits to chat about endorsements
---
VTR - Dave Betras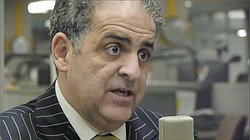 Video Set
Vindy Radio is back on the airwaves this morning from 8-Noon with Louie Free.
Broadcasting from The Vindy newsroom, the show will be highlighted by a 10 a.m. visit from Mahoning County Democratic Party Chairman Dave Betras.
Also:
@ 9, Patty March and Friends of Mahoning River discussions with Louie and Vindicator editor Todd Franko.
@ 10, Dave Betras stops by to chat about endorsements with Franko and David Skolnick.
@ 11, Vindy staff chat reviewing last month's news with editors Mark Sweetwood, Bertram DeSouza, and Dennis Mangan.
Click below to listen to the show live.
Check out Vindy.com later today for a batch of videos from the sit-down with Betras.
Click here to listen to the show.