Salem overcomes slow start to reach Div. II district final
---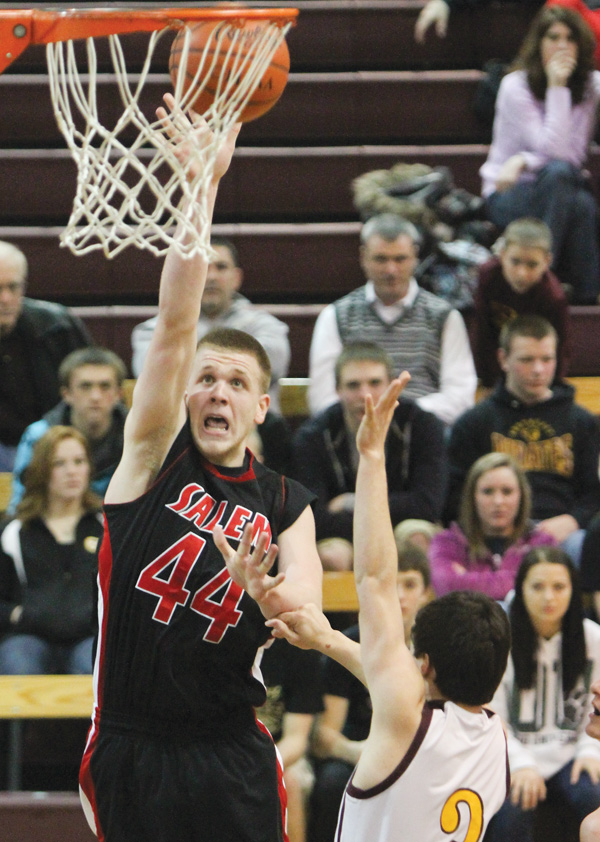 Photo
Salem's Anthony Shivers (44) puts in a shot against Southeast defender Corey Proctor (3) during their Division II district semifinal Wednesday at Boardman High School. The Quakers edged the Pirates, 54-52.
By Brandon Judeh
BOARDMAN
With 1.1 seconds to go in Wednesday night's Division II boys district semifinal game between Salem and Southeast, the Quakers were clinging to a two-point lead.
The Pirates' Jordan Krych needed to miss the last of his two free throws in order for Southeast to have a chance at the upset at Boardman High School.
He clanged it off the iron, but right into the waiting hands of Salem's Anthony Shivers, clinching the 54-52 win for the Quakers.
"I knew we were going to have to get a body in front of their guys in order to secure the win," Shivers said. "We have been in this situation before and we know how to handle it, but it was a relief to grab the board and hear the final horn sound."
The Quakers (19-6) narrowly escaped an upset, but early on it looked as if the Pirates (12-10) were going to run away with the game.
Southeast jumped out to an 8-0 lead to open the game and soon the scoreboard read 16-4 in favor of the Pirates.
"We panicked just a little bit, but we were able to continue to chip away at their lead and get it down to a manageable margin," said Salem coach Rich Hart.
The Quakers narrowed the deficit to four after one, but it wasn't until the third quarter when Salem took its first lead.
Zach Economous nailed a 3-pointer halfway through the period to give the Quakers a 32-31 lead.
But Southeast would not go away. The Pirates' Trevor Norquest hit a 3-pointer to give his team a one-point lead with 3:18 left in the fourth.
Southeast finished with eight 3-pointers, including six in the first half.
"We knew coming out of the half that we were going to have to close in on their shooters a little better because they were shooting so well," Salem's Max Wolfgang said. "That was our mindset and it worked."
The Southeast lead was short-lived as Salem's Brendan Webb found Wolfgang — a 6-foot-6 junior under the hoop for an easy bucket and a one-point lead.
"Our game plan from the beginning was to rely on our inside game because we knew we had the height advantage," said Wolfgang, who finished with a game-high 18 points and six rebounds.
Shivers, also a 6-6 forward, had a double-double with 16 points and 11 boards. Ryan Bush added 11 points.
Norquest led Southeast with 15 points, Jordan Krych scored 12 and Lucas Bloom hit three 3-pointers and finished with 11 points.
Next up for Salem will be Cardinal Mooney — the surprise team of the Boardman district. The Cardinals upset Poland, 51-33, on Monday night.
Hart and the Quakers scrimmaged Mooney before the season. He said he knows what to expect.
"They are a very good team and I know that we are going to have to play a whole lot better than we did today," Hart said. "We need to finish off the easy shots."
The two will meet at 6 p.m. at Boardman.