East's season ends in district semifinal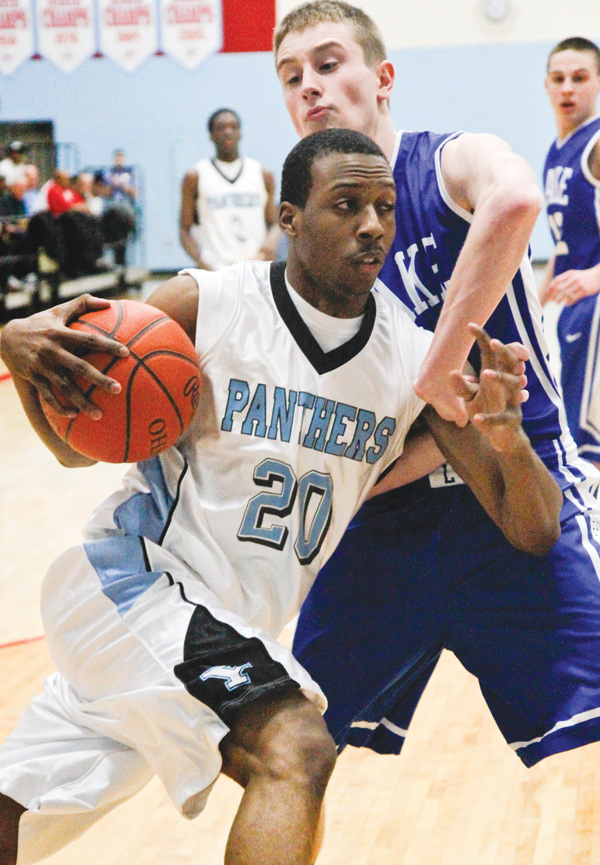 ---

Photo
East's Terrell McClain (20) drives against Lake defender Alex Belinsky (21) during the Division I district semifinal Wednesday at Alliance High School. The Panthers' season ended in a 59-42 loss to the Blue Streaks.
Blue Streaks' zone switches frustrate East
By Steve Doerschuk
Canton Repository
Alliance
Idled for 10 days as a No. 1 seed, Lake barely made it out of its tournament opener alive.
Five days later, Lake thrived. East got the best the Blue Streaks had to give on Wednesday night in the latter's 59-42 victory in a Division I boys basketball district.
"We had a nice jump in our step," Lake head coach Tom McBride said as the crowd filed out of the Harry Fails Gymnasium. "We were missing that the other night."
The Streaks seized control early and led by 26 points after three quarters.
They pushed their school-record win total to 21. Two of their three losses have come against Hoover and Green, the team's that battle tonight at 7:30 in the other district semifinal in Harry Fails Gymnasium.
No. 1 seed Lake will take on No. 2 seed Green or No. 3 seed Hoover for a district championship at 7:30 p.m. Saturday.
Lake and East both entered on eight-game win streaks that included wins over Canfield — Lake beat Canfield 54-51 Friday in a sectional final.
The Panthers had no answers for Lake's high-voltage 1-3-1 and matchup zones, mustering only five points through a quarter and a half.
Two foul shots by senior Blake Sitzlar stretched a Blue Streak lead to 18-5.
Lake pushed the ball toward the basket from any and all starting points, battling for layups, missing a few against East's feisty interior defense, but making plenty en route to a 27-9 halftime lead.
"Lake is so disciplined," East's first-year head coach Dennis Simmons said as he quietly reflected on an 18-7 season from a locker-room bench. "They're able to look for a first option and a second option and not be rattled if nothing is there."
To say the Streaks stumbled a bit against East's full-court press early in the second half is nit-picking. The lead kept growing, reaching 37-15 on a cross-court pass and 3-pointer by Alex Belinsky midway through the third quarter. It went to 44-17 on a reverse layup by Mitch Spotleson.
Lake's fourth quarter went as badly, for a while, as the first three quarters went well. Given the Streaks' 49-23 lead after three quarters, the damage, if any, was psychological.
East's deficit shrank to 53-39 on a barrage of 3s and pride-driven hustle. There had been plenty for Lake to like.
"I liked the way we rebounded," McBride said after the high-contact game that required determination to get and keep the ball.
Spotleson, a 6-foot-3 junior, was a force inside en route to 17 points.
"They played a style of basketball we were able to attack," Spotleson said.
Belinsky, another 6-3 junior, scored 11 of his 18 points in the third quarter. Senior Chaese Vaudrin got Lake rolling with an early 3 en route to 12 points.
Senior Taylor Johnson had 17 points and Marquis Cotton added 10 for the Panthers, whose record was 15-7 a season ago.