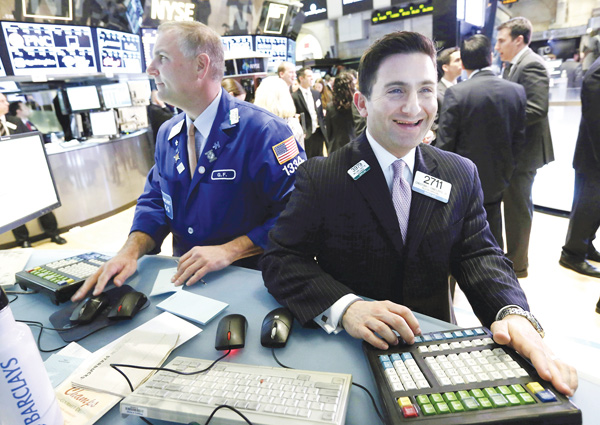 ---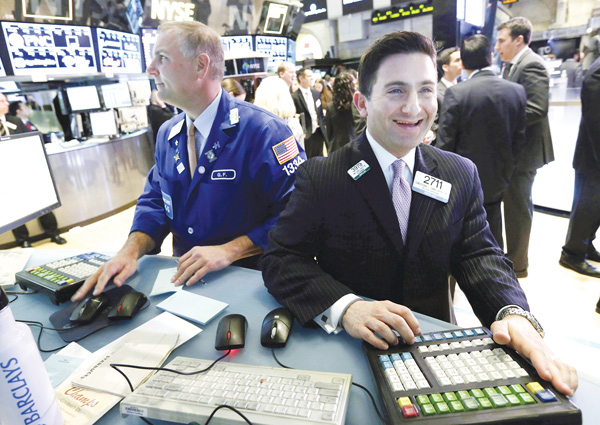 Photo
Specialist Christian Sanfillippo, right, smiles as he works at his post on the floor of the New York Stock Exchange. The Dow's new all-time high and better economic data from the United States propelled world stock markets higher Wednesday.
Associated Press
NEW YORK
After barreling through a record the day before, the Dow Jones industrial average meandered higher Wednesday.
The Dow edged up 42.47 points, or 0.3 percent, to close at 14,296.24. An encouraging job-market report helped nudge the stock market up and pushed bond prices lower.
On Tuesday, the Dow blew past the previous all-time high it hit more than five years ago. The index of 30 big corporations has more than doubled since hitting a low during the financial crisis in March 2009.
The question now is, how much longer can it keep climbing?
In the past, stock indexes often have drifted lower in the months after breaking through previous record highs. David Brown, director of Sabrient Systems, an investment-research firm, sees plenty of reasons for the market to keep climbing, however. People are putting their cash into the stock market again. And the alternatives, such as bonds, are hardly appealing.
"There is literally nowhere else to go," Brown said. "Do you really want to make 1.9 percent on a 10-year Treasury? You won't make any money doing that."
In other trading, the Standard & Poor's 500 index rose 1.67 points, or 0.1 percent, to 1,541.46. The Nasdaq slipped 1.77, less than 0.1 percent, to 3,222.36.
Microsoft led a decline in tech stocks, losing 26 cents to $28.09. European regulators fined the company for breaking an antitrust agreement requiring the software giant to offer computer users a choice of Internet browsers, instead of just Internet Explorer.