Canfield church serves free Lenten breakfasts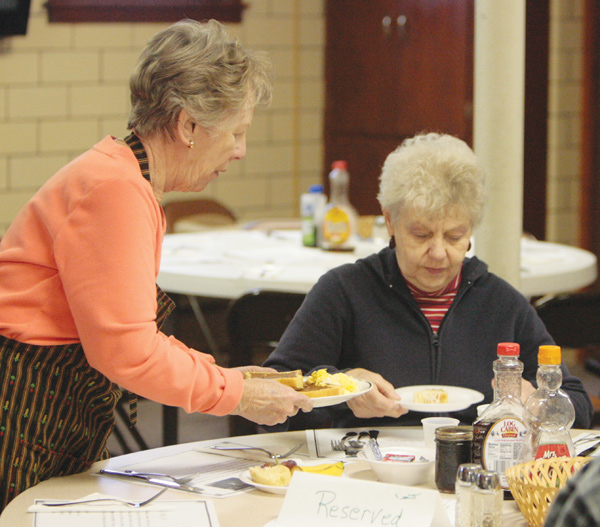 ---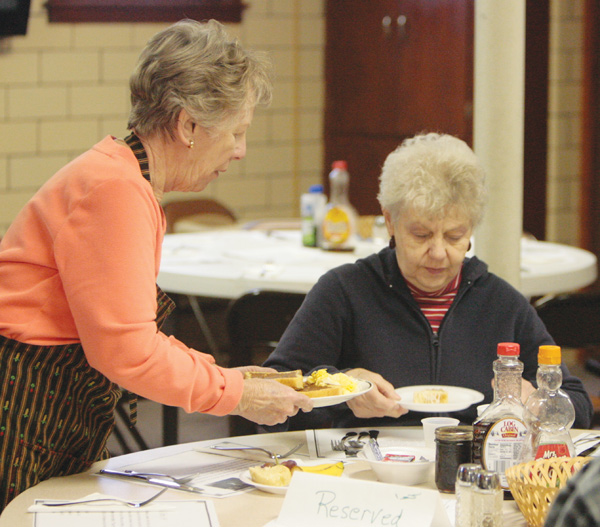 Photo
Sally Payne serves a made-to-order breakfast to June Barnes during the Lenten breakfast at Canfield Christian Church. The free meals include eggs, sausage and toast while pancakes and French toast are served on alternate weeks. Placemats feature a devotional.
By LINDA M. LINONIS
Canfield
Canfield Christian Church tempts people — in a good way — during Lent.
But to succumb, you have to awaken early and get to the Disciples of Christ church in the city. Enticing smells envelop those who enter the fellowship hall.
The church serves a free breakfast Wednesdays during Lent. It's a hot, hearty start to the day.
You don't have to be a member to attend. The "Feed Your Body and Your Soul" breakfasts are open to the public.
Brenda Hernan, breakfast coordinator, said the late Kay Dahlgren started the meals in the early 1990s as a way to raise funds for missions. A free-will offering designated for that purpose continues.
When Dahlgren died, the breakfasts stopped for a while then were restarted in 2006 by Alice Johns. Hernan is logging her third year coordinating the popular event while Johns takes a break. About 10 volunteers make the breakfast magic happen.
Eggs, toast and sausage (donated by DiRusso) are always served while pancakes and French toast are served alternate weeks. There's also coffee, orange juice and various baked goods.
And let's not forget the egg casseroles, another tasty addition to the menu. "It's one of the favorites," Hernan said, adding it's usually served at the last breakfast.
The breakfasts are served from 6:30 to 9:30 a.m. "The busiest time is from 7:30 to 9," Hernan said. Lulls allow the volunteers to clean tables and restock.
The breakfasts average about 55 people, though last week, 90 attended. The final breakfast usually attracts nearly 100.
Though they're called Lenten breakfasts, there's no formal devotion. "We have devotions on the placemats," Hernan said.
While you're sitting back basking in the glow of a good breakfast, you also can reflect on a spiritual thought written by Beulah Eastman, wife of Pastor Jay Eastman. This week's Scripture, I John 1:9, deals with confessing sins to God and forgiveness. The devotion asks readers if they talk to or confide in Jesus and how that makes them feel. Other devotional materials and the church newsletter are available.
If you get a "top secret" envelope, your mission is to pass on the gift to a stranger in Jesus' name. To find out what that means, attend a breakfast.
"There's a lot of fellowship," Hernan said. "It's popular here in Canfield."
Doris and Frank Cavanaugh rated the breakfast as "delicious" and see the occasion as a time to "visit with old friends and make new ones."
The couple, who are Methodists, said they like to support the breakfast and also attend the Friday fish fry at St. Michael Church.
Fellow Methodists Shirley and Charles Weaver also were at the breakfast. "I think it's good to support one another," she said of church events. "It's cozy here. You talk to people you know and don't know."
Carol Payne, a church member and volunteer server, said there are many "regulars" who attend. Her sister-in-law, Sally Payne, described the church as "close-knit."
In the kitchen, chef Arlan Coy prepares eggs as per the "customer's order." He uses milk to make scrambled eggs ... "they're fluffier," he said. For cooking, he uses a mixture of butter and olive oil. "It keeps them from sticking," he said.
The cook said he likes the project because it's for the community and a chance to see and meet people.
His wife, Patty Coy, is the "expeditor," meaning her job is making sure the right order is delivered to each person.
June Barnes said members of her Canfield High School class of 1953, who meet monthly, use the Lenten breakfast for that purpose and as a way to support the church. Joyce West Drouhard, also a class member, added that the breakfast is a nice place to meet.
The church, organized in 1822, has about 100 members.