State rates Youngstown Community School 'excellent'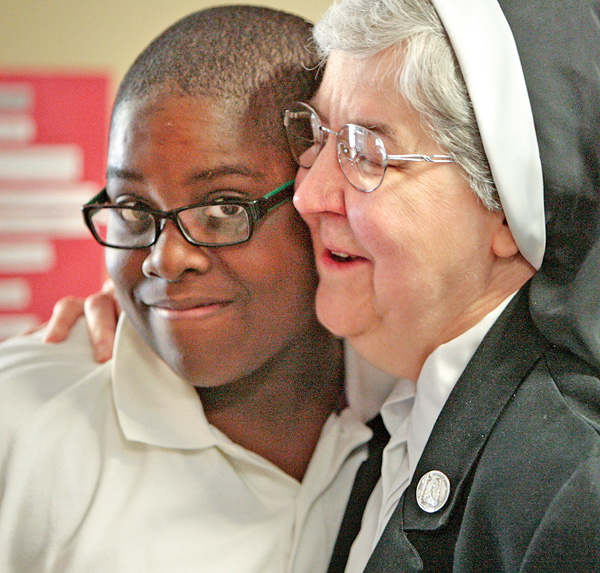 ---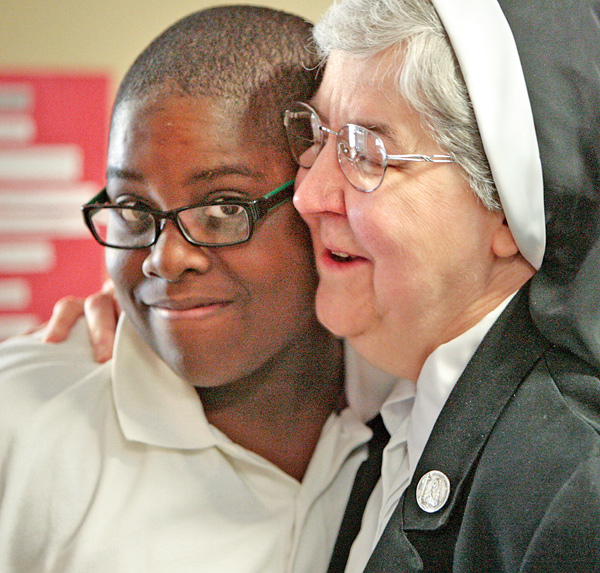 Photo
Sister Mary Dunn, principal of Youngstown Community School, gives a congratulatory hug to Demar Brown after the student performed well on a test.
By DENISE DICK
denise_dick@vindy.com
YOUNGSTOWN
Only one Mahoning Valley charter school earned an "excellent" designation on the 2011-12 state report card.
It marks the second time Youngstown Community School merited the mark. The first time was on the 2009-10 report card. The school was designated "effective" for 2010-11.
"I commend our teachers," said Sister Mary Dunn, school principal.
The teachers work with professional development and work together as a team to instruct students. Math and literacy coaches, in place about three years, also contribute to the school's success, helping teachers.
The school enrolls 322 students in kindergarten through sixth grade, all from the city.
Students must apply for acceptance, and most continue through all grades of the school.
Besides the report-card designation, the school learned late last month that it had been named a School of Promise by the Ohio Department of Education.
"Youngstown Community School proves every day that failure is not an option," Michael Sawyers, acting superintendent of public instruction with ODE, wrote in a letter to Sister Mary.
Youngstown Community School is one of 163 Ohio schools selected as a School of Promise.
"Strategies by you and your staff to close the mathematics and reading achievement gap for students who represent a range of socioeconomic and ethnic backgrounds are working, and we hope you will share them with other Ohio schools," Sawyers wrote.
One of those strategies is the expectation that students follow the rules and do their work.
"It's tough love," Sister Mary said. "We know all children can succeed."
They may not all achieve at the same level, but they all can succeed, she said.
Even as students move between classrooms, the hallways are quiet and students stand up and greet adults who enter their classrooms.
Homework is required daily as well as each weekend, and students are expected to follow the rules.
"And they're held accountable for homework," added Dee Pitko, a physical-education teacher at the school.
Pitko also credits her colleagues for the school's success.
"The teachers and the kids do a marvelous job," she said. "They care. They really care."