YSU players try to catch scouts' eyes at WATTS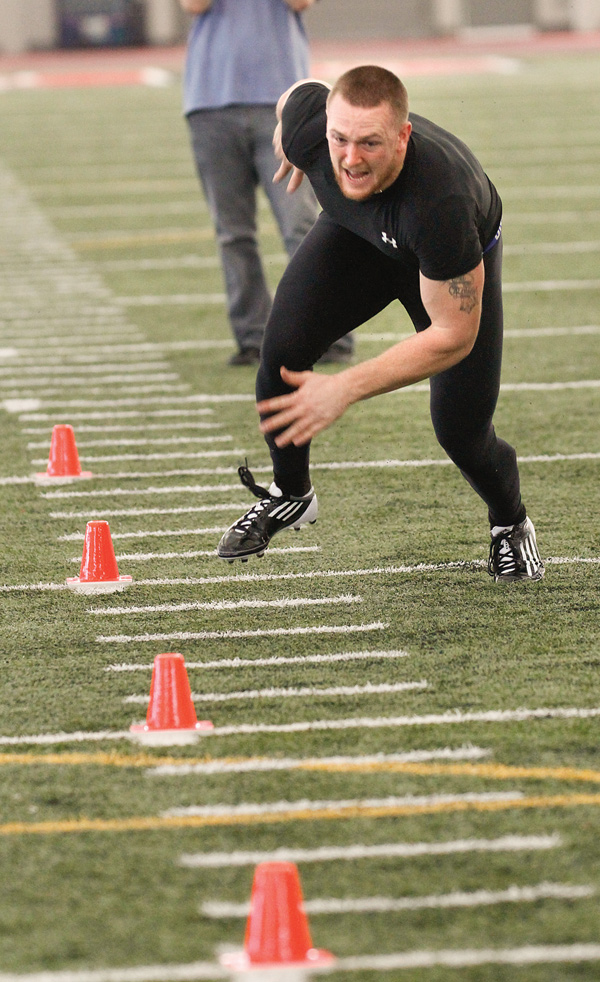 ---
YSU NFL Combine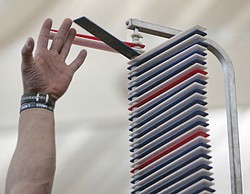 Gallery
Five Youngstown State football players try to make an impression on a dozen NFL scouts during the Penguins' pro day
By Joe Scalzo
YOUNGSTOWN
At 5 a.m. Tuesday, about six hours before what he called the "biggest interview of his life," Jamaine Cook woke up and started tossing and turning in his bed, trying (and failing) not to think about the 40-yard dash.
"I had the weight of the world on my shoulders," he said following Youngstown State's NFL Pro Day at the WATTS. "This could be life-changing."
Cook didn't get the time he wanted in the 40 — he had to restart several times before his three attempts and was clocked at 4.78 by a Bills scout — but he performed well in the rest of the drills. Cook was one of five Penguins who worked out in front of 12 NFL scouts.
"You guys have seen me play and you know speed isn't always my best thing," said Cook, who has rushed for at least 1,250 yards each of the past three seasons. "But the rest of the drills, I was very confident. That's all natural to me.
"I felt we all did pretty good, but there's always room for improvement."
Three of the five players have already played in postseason all-star games. Cook and offensive lineman Lamar Mady played in the Texas vs. the Nation game, while tight end Will Shaw was in the Casino Del Sol College All-Star Game. Center Mark Pratt and defensive lineman Aronde Stanton (who tweaked his left hamstring while running the 40 and was slowed in later drills) also worked out as current and former Penguins looked on.
Mady lowered his times in several drills from last month's NFL combine in Indianapolis and seems poised to become YSU's first draft pick since Harry Deligianis in 1998.
"Today I was a lot more relaxed because I went through the combine process," Mady said. "I had a lot of ups and downs at the combine. The days leading up to it were kind of tiring and I just had to push through that. Today, I feel like I had another chance to prove my real numbers.
"My position drills weren't the best [Tuesday] but I feel like I made a statement as far as ... proving I should have been there [at the combine]. All in all, it was a pretty good day."
Unlike Cook, who took the semester off from school to train at Ignition APG in Cincinnati, Shaw has been trying to juggle his training with 17 credit hours of classes.
And, unlike Cook, the former safety been hitting the hay like he used to hit ballcarriers — hard.
"I slept like a baby [Monday night]," he said, grinning. "I've just been tired from training and everything at school. Trying to juggle 17 credit hours and trying to get enough hours of training and resting and my body — I feel like I spent my whole time at home cooking — there wasn't enough time to get everything in.
"I felt like it was a good day for us. I felt at home in all the position drills and the agility drills. The 40 is not a natural thing for any football player, but aside from that I felt pretty good."
The NFL draft runs from April 25-27 and the Penguins will spend the next few weeks training and interviewing with teams. Tuesday's workout also had scouts from the Browns, Chargers, Chiefs, Colts, Dolphins, Giants, Jaguars, Panthers, Patriots, Saints and Steelers.
"It's all in God's hands from now on," Cook said. "The next month I'll just keep working and stay focused on my goals.
"I did all I could to prepare myself up to this point, so we'll see what the Lord has in store for us."