---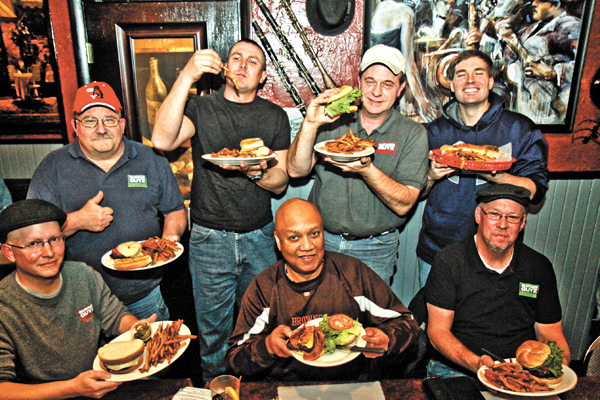 Photo
Anthony Fuda, AC McCullough, Scott Long, seated from left, and John Spatar, Eric Clark, Jerry Tranovich, and Eric Tranovich at Trax Restaurant & Lounge in Austintown.
If You Go...
Where:
Trax Restaurant & Lounge, 4250 New Road, Austintown
Phone: 330-799-2249
Hours:
Monday through Thursday, 11 a.m. to 11 p.m.; Friday and Saturday, 11 a.m. to midnight; Sunday, 3 to 9 p.m.
Menu:
Eight burgers and Trolley Burgers (sliders) ($6.99 to $9.59) served with fries
By Anthony M. FUDA
Ever have one of those places you want to try, but something always comes up and you're forced to keep saying, "Next month?"
We have been on our Burger Quest for five years, and Trax is one of those places.
Joining us to review the Trax burger was HOT 101 morning personality AC McCullough. He has been a staple of Youngstown radio since 1970 and currently co-hosts the AC and Kelly morning show.
The sports bar has treated the Austintown faithful to handmade half-pound burgers for more than 25 years. Owner Frank Valentini says, "We get our meat hand- delivered daily from our neighbor, The Meating Place. The fresh ground beef is a nice start to a good-tasting burger."
Our waitress, Tiffany Tulipano, helped us find a table suitable for our crew in the bar area, and we perused the menu for the burger choices.
The regular menu offers three half-pound burgers: a regular or cheeseburger; the Trax Burger (provolone, roasted peppers and sauce, served on garlic bread); and the Patty Melt (on rye bread, with homemade hot peppers for that extra kick); as well as Trolley Burgers (four sliders with your choice of toppings).
These burgers come with hand-cut fries, but you can substitute soup or salad for $1.29.
There also was a special burger — the Chili Cheeseburger (served on a hoagie bun with chips).
You can add extra toppings such as grilled peppers and onions, mushrooms, roasted peppers, bacon and jalapenos for 79 cents to $1.59.
We split our orders between the Trax Burger and the cheeseburger, while Eric T. ventured for the monster Chili Cheeseburger.
We each took a bite of the burger, and our mouths sent a "char-grilled burger coming" alert to our stomachs.
While we were enjoying our meals, Frank said we had to try all the burgers, so he personally cooked the selections from the summer menu for us to try: Honker Burger (lettuce, tomato, onion, American and Swiss cheese, fried egg, peppers, mushrooms and bacon); Locomotive Blackened Burger (honey barbecue ham, Swiss cheese and onion straws on a crusted hoagie); and four Trolley Burgers (with a garlic bun and caramelized onions).
Frank said you can order the summer menu burgers all year, and we agreed these specialties should be available year-round.
AC had a cheeseburger and said, "It was awesome." He then tried one of the Trolley Burgers and noted, "By far, with the caramelized onions, this one tastes the best."
I had a Trax Burger and enjoyed the char-grilled beef with the sweet roasted pepper on the nicely toasted garlic bread. I usually prefer a bun, but the garlic bread added a little boost of flavor. I also tried the Patty Melt and thought the homemade hot peppers provided just the right amount of heat to make this burger very enjoyable.
Eric T. climbed the mountain of Chili Cheeseburger and said, "It turns out chili is just as good on a burger as it is in a bowl or on french fries."
He added, "The spicy chili taste really complements the classic burger flavor, and added to the fresh hoagie, it's a 1-2-3 punch for the taste buds."
When the warmer weather starts, Trax has an outdoor Paradise Patio, so you can kick your shoes off and relax in the fresh air with beach sand under the tables. You can sit by the palm trees and enjoy a refreshing beverage while you wait for your burger.
Where the rubber meets the road is where you will find the Trax that will take you to a great-tasting burger.
Keep sending burger suggestions to mvbrb@hotmail.com, and like the Facebook page Burgerguyz so you can keep up with all the freshest burger news.
More like this from vindy.com