Cole's buzzer-beater gives YSU 62-60 Horizon League win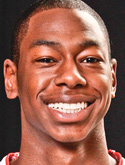 ---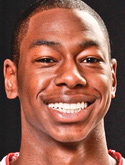 Photo
By Joe Scalzo
Youngstown
Kendrick Perry may have missed his fourth straight game with an left knee injury Tuesday night, but sophomore D.J. Cole did a pretty darn good imitation of him on Youngstown State's final play.
After Loyola's Devon Turk made a pair of free throws to tie the first round Horizon League tournament game at 60 with 13 seconds left, Penguins coach Jerry Slocum called timeout. He then drew up a play calling for Cole to get the ball at the top of the key with senior Blake Allen coming off a triple screen off the baseline for a jumper on the right wing.
"He [Slocum] said I should take it to the hole or give it to Blake on the screen," Cole said. "I saw the opening, so I just took it."
Cole drove left, elevated and banked in a Perry-esque shot for the game-winner with 2.5 seconds left. With no timeouts, Loyola was forced to inbound from behind the basket and Joe Crisman's half-court prayer had no chance.
It was the third time this year the Penguins beat Loyola in the final 10 seconds.
"D.J. loves his left; that's his favorite side," Slocum said. "He made a heck of a play.
"In a timeout like that, give the kids the credit. I got a lot of great ideas but my lips to their ears to their feet at times really gets messed up in a situation like that."
The win gives the Penguins (17-14) their most wins in a season since winning 19 in 2000-01, the year before they joined the Horizon League. It also sets up a rematch Friday with Wright State, which pasted the Penguins 72-45 on Saturday.
Slocum declined to talk about the Raiders — "I haven't even thought about them," he said — but said it's unlikely Perry, a first-team all-conference guard, would be back.
"I thought it was gonna be going a little bit better than it has," Slocum said of Perry. "I'm not taking a chance. He's got to be ready. He's not going [to play] at 80 percent."
Cole scored 13 points for the Penguins, while Damian Eargle had 10 points, eight rebounds and seven blocks, giving him 300 for his career.
Kamren Belin added 15 points, including a gutsy turnaround 15-footer with just over a minute left. Allen had 15 and Shawn Amiker had nine points and nine rebounds in his first start since Jan. 19.
"Really, really, really proud of our guys," Slocum said. "What we've been through over the last three weeks [with injuries to Perry and Eargle], coming off our worst effort of the year on Saturday, to bounce back and to fight and to play like that was just a tremendous win for us. And just a tremendous game of character for our guys.
"I thought they responded to every challenge."
Christian Thomas scored 16 points with six rebounds for Loyola (15-16), which lost three games to YSU by a combined five points this season. All-conference forward Ben Averkamp had 14 points and nine rebounds off the bench.
It's the second straight year the Penguins hosted, and won, a Horizon League tournament game and a feisty crowd of 2,270 got a good one.
"Our people come out for playoffs and they saw a heckuva basketball game tonight from a heckuva group of kids that are not by any stretch feeling sorry for themselves for the fate that's been dealt us," Slocum said. "I'm really proud of them."